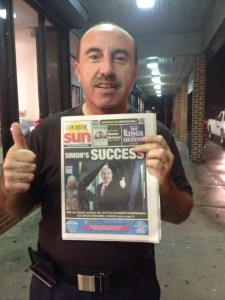 City Council candidate Lew Simon, who is trying to unseat Queens GOP Councilman Eric Ulrich, received a major health scare this week when doctors found several blockage near his heart.
Mr. Simon's doctors first advised that he would be required to undergo non-emergency triple bypass surgery tomorrow morning, campaign aides told Politicker this evening. Subsequently, his campaign announced that a bypass was no longer deemed necessary and that he would be undergoing an angioplasty instead.
This story has been updated to reflect that change.
"We heard that doctors just determined bypass is no longer necessary," a spokesman explained. "He will be [given] an angioplasty instead to insert a stent into his heart. It's much less invasive surgery — should be up and about next week."
Mr. Simon, a Democratic party leader in the Rockaways, who lost his bid against Mr. Ulrich in 2009, was feeling some tightness in his chest earlier this week, according to the campaign. When he went in to get it checked out, doctors found several partial blockages.
His campaign said Mr. Simon intended to continue with his campaign, despite the setback.
"He is expected to make a full recovery and his City Council campaign will continue as planned," his spokesman and general consultant Doug Forand said earlier this afternoon, adding that his team would "continue to highlight Lew's unmatched record of public service and leadership in the Rockaways, Howard Beach, Woodhaven and Ozone Park" while he was out of commission.
Update: 5:30 p.m.: This post has been updated in light of new information from the campaign.