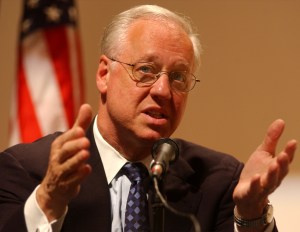 A small group of Queens officials quietly schmoozed with disgraced ex-Comptroller Alan Hevesi last night, reuniting with him for a "welcome home" dinner after he was jailed for his role in a massive pay-to-play scandal.
Mr. Hevesi, a power broker who was close to the Queens County Democratic organization before he admitted to receiving $1 million in kickbacks while investing the state's pension fund, dined with State Senator Toby Stavisky, Councilwoman Karen Koslowitz and former Queens Borough President Claire Shulman at a local diner in Rego Park.
Mr. Hevesi, reportedly nicknamed "Hevey D" by rapper Ja Rule in prison, served 20 months and was released on parole at the end of last year. "This was their welcome home dinner for him," explained a well-placed source. "Just the four of them."
When he entered Shalimar Diner, Mr. Hevesi, also a former assemblyman and city comptroller, was immediately recognized by a hostess, who led him to the rear of the dining area. There, the four pols nibbled on salmon, bread and soup, catching up and laughing loudly until lowering their voices in the middle of the meal–perhaps noticing a reporter sitting nearby.
The location of the meeting carried some significance because all of the pols who were present are big names in the area. Rego Park, along with Forest Hills, were neighborhoods Mr. Hevesi represented as an up-and-coming assemblyman and functioned as his original base of power. Ms. Koslowitz is the current councilwoman representing the neighborhoods. Ms. Shulman was a longtime borough president and political heavyweight, and Ms. Stavisky and her late husband have represented parts of central and eastern Queens for a half century.
As Mr. Hevesi boarded his black SUV to head home, Politicker asked the ex-con if he had any plans to wade back into Queens politics in any capacity.
"I'm fully retired," he said. "Just catching up with old friends. I'm a grandfather now."
While Mr. Hevesi has departed from the political scene, his legacy lingers in the borough. His son, Andrew, is an assemblyman representing his dad's old district and a former protégé named Melinda Katz is likely to become the next borough president.
Reflecting on Ms. Katz's victory in last month's Democratic primary, Mr. Hevesi told Politicker, "It's good stuff."