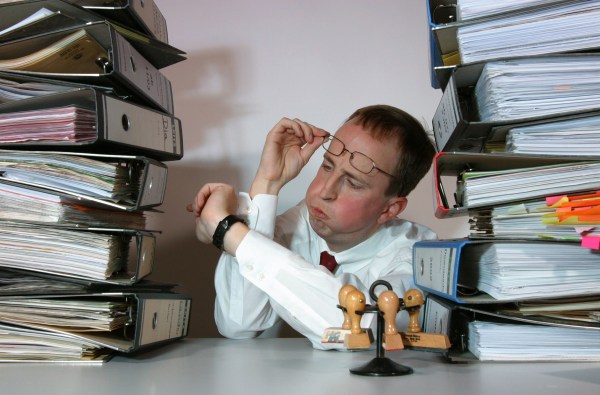 I hated working for my boss. He was lying to me about compensation. And I felt like I had to kiss his ass all the time so he would like me.
One morning during a meeting, I got up to go to the bathroom. I didn't get my coat. I didn't clean my office. I walked out of the building. I took a train 70 miles to get home. And I didn't leave my bed for two weeks while they called and emailed. I never spoke to them again.
I'm not saying you should do that. It was rude. But over the next year, you need to quit your job.
Your college degree won't save you. For the first time ever, the rate of college graduates who are unemployed is more than half as high as the rate of noncollege grads without a job.
You have to quit your job. If you don't, you will end up fired, demoted, demoralized or broke. Here's why.
1. Your boss hates you. 
In order for him to please the boss who hates him, your boss has to squeeze more profits from you. His competitors are already getting more profits by firing employees. So he has to either pay you less or get more work out of you for the same pay. Good luck surviving either of those trends.
2. The middle class is dead. 
For the past 20 years, incomes have risen slower than inflation, which means the food, gas and housing you buy consume a greater percentage of your income than they did 20 years ago. This is why household debt is near all-time highs. You have to borrow to live.
Your job pays you enough to live, but that's it. But soon your job won't pay you enough to live. This trend is not going to end because of the next reason.
3. Your job is being outsourced to people who are killing themselves.
We don't know the exact number, because this isn't the sort of thing you see in the instruction manual for your iPhone. But at least 2 dozen Foxconn employees have killed themselves in the past three years while on the job assembling Apple products.
Why is Apple outsourcing to a Chinese company where a huge percentage is miserable to the point of taking their own lives rather than making your iPhone in the U.S.? I want to be able to say something snarky like, "because they can," but that's not it.
It's because they have to. Profits are being squeezed in a global economy. So first companies fire their full-time employees and outsource to temps. Then they outsource outside of the country. Then eventually they outsource to robots. Robots sing in unison on the assembly line; the song is "Suicide Is Painless"
4. It's not about the money.
I hold a Q&A session on Twitter every Thursday afternoon. I'm often asked, "Should I leave the job I love for the job with more money?"
The answer is "no." We all know this: When you make more money, you spend more money. Even a $20,000 raise is only $12,000 after taxes, which is only $1,000-per-month additional money, and that will go into a slightly bigger apartment, a slightly nicer car, maybe one more day of vacation, and then it's gone.
None of that buys happiness compared with doing work you actually love.
5. A job won't make you rich. 
Unless you are the CEO of a Fortune 500 company, you'll never generate real wealth from your job. A company only pays you enough to keep you on a leash—not so little that you leave and not so much so that you can escape.
In other words, you have to start a company. Or create a piece of art. Or provide some value that you can sell later on for a larger piece of the pie. We live in a $15 trillion economy, but most of us let the top 1 percent keep that $15 trillion. If we reach for it, we're entitled for our piece. But it's difficult, and we're afraid.
6. I can't just quit. I have bills to pay! 
I agree with this. It's hard to do. It has to happen in baby steps. Many people ask me, "Should I raise money, or should I just jump into a new company and see what happens." The answer is "no" to both. You have to do it slowly. Find alternative streams of income while you are at your current job.
Explore services you can offer other companies. Be creative. Write down 10 ideas per day of things you can do to generate more income. This helps exercise an atrophied idea muscle.
This is not corny self-help. This is what I did when I was neck-deep in debt and struggling at a job. Eventually, I had a good idea. Eventually, I had two good ideas. And finally, I was able to make the jump.
I don't care how you do it: consulting, starting a small business, doing some services for multiple businesses, writing books. You have to do it. You will feel better, look better, be more relaxed. I've seen it a thousand times.
Your hands have not evolved over 3 million years to type out memos. Or put paper through fax machines. Or hold a phone up while you talk to people you dislike. 100 years from now, your hands will rot like dust in your grave. You have to make wonderful use of those hands now. Kiss your hands so they can make magic.
James Altucher is a hedge fund manager, entrepreneur and best-selling author. He has founded or co-founded more than 20 companies, including Reset Inc. and StockPickr. His 11 books include Choose Yourself!, and his writing has appeared in The Financial Times, The Wall Street Journal, TheStreet.com, Forbes and TechCrunch.