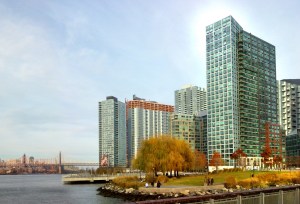 Thinking about building a residential development in the New York City area? You'd do well to avoid bowling alleys and golf simulators, according to a recent survey of area developers, who found that the amenities provide a bad return on investment. Pools, though colloquially considered huge wastes of money, were seen by a surprising 46 percent as providing the most "bang for your buck"—perhaps because buyers and renters see them as a standard amenity in a luxury building.
Among the other not-so-surprising revelations in the Marketing Directors' regional developer survey, which polled more than 40 developers in the Tri-State area, was that most respondents thought that micro units—Bloomberg's plan to help solve the affordable housing crisis by putting renters in teensy-tiny, but actually kind of pricey apartments—wouldn't  have much traction outside of Manhattan.
Developers also thought that Queens was poised to see the most residential growth, followed by Brooklyn, New Jersey and Long Island City (which, we guess, has a special dispensation that allows it not to be considered with the rest of Queens).
This is, perhaps, good news, since developers also expect the prices of both rentals and condos in Manhattan to continue their never-ascending ascent, with 58 percent expecting condo prices to reach $2,000-$2,900 per square foot by 2015 (the other respondents thought that they'd go even higher, with 36 percent estimating that averages would soar to $3,000-$3,900 per square foot). As for rentals, 47 percent thought that prices would climb to $80-$89 per square foot by 2015—though they may be overly optimistic given that $90 per square foot would be a 25 percent increase in just over a year's time.
Which basically means that we'll probably be seeing even more luxury condo towers with rooftop decks and lounges in Long Island City. And, one can conclude that it would be ill-advised to construct a complex of micro-unit with a bowling alley and golf simulator in Staten Island.