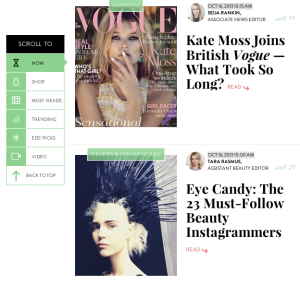 To survive in this materialistic, stuff-oriented world, one must have an arsenal of beauty and fashion websites at the ready. One such site, Refinery29, has just raised another $20M, in a Series C round of funding. The company will use the cash to expand its mobile offerings, which means it'll soon be easier than ever to take in endless hair how-tos and moody street-style pics from the comfort of your iPhone.
The new injection of dough will bring expanded video offerings and beefed-up coverage of beauty, wellness/health, entertainment and home, a press release from the company reads. If this means more real estate and interior design porn, we're so in. They'll also make a major investment in technology, including their mobile site and an app.
The site "has always been digital-first," cofounder and co-CEO Justin Stefano says in the release. And although it lives online, Refinery29 has outposts in actual cities like San Francisco, New York and Chicago, connecting the site with local readers through features on local bars and boutiques. The site dabbled in e-commerce recently too, but according to PandoDaily, the whole native sales thing didn't pan out, so they're refocusing their efforts.
Refinery29 is also bringing in a new member of their board of directors, Dan Marriott, who's a managing partner of Stripes Group. He calls Refinery29 "an authentic brand truly poised for greatness."
Prior to this round of funding, Refinery29 raised $5.6 million in a Series B in January, from investors like First Round Capital, Lerer Ventures and Hearst Corporation. The company has 120 employees and reaches 11 million people per month, all of whom have apartments straight out of the Anthropologie catalogue as well as perfectly wavy Olsen twin hair, we're pretty sure.