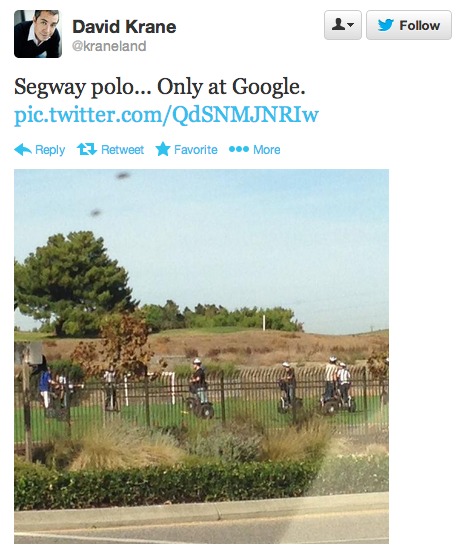 Ridin' nerdy Some people in tech want to get rid of the industry's reputation as a festering geek pool, while others don't give a toss if people think they're dorks. To the left is a picture of some people playing Segway polo on the Google campus, tweeted by Google Ventures' David Krane. You be the judge.
Peace out With the election right around the corner, it looks like the Bloomberg administration is starting to power down. Today, the Daily News reported that deputy press secretary Julie Wood–who runs the mayor's Instagram, among other things, and is a familiar face from the mayor's many, many visits to startup offices–is leaving for her next act.
And, surprise! It's a startup, specifically comms for Kickstarter. We look forward to being scolded by Ms. Wood in her new role.
Oops O.G. Gawker and former New York Observer Elizabeth Spiers tweets that today she grabbed lunch with blog lord Nick Denton, and "we discovered we're getting married on the same day. Looking into helicopter shuttles for mutual friends." Isn't there some sort of secret Google calendar for the digital media elite to prevent this sort of messy incident?
It's all about the benjamins Here's a picture of rap-cum-business mogul Diddy using a Bloomberg Terminal. We're not sure what else to say other than we didn't think we'd see this in our lifetimes, but here we are! Judging from that stare, guess he's screaming "SELL DANITY KANE, SELL!"
Hollywood hacker Thor star and full-time beefcake Chris Hemsworth came out this week as a Code Academy student. Well, not quite, but in preparation for the super good sounding movie Cyber, the Aussie actor admitted cracking computers to learn for his upcoming role. Apparently he didn't advance far beyond pressing control+alt+delete because he told Details, "I can't say I can hack into your Swiss bank account, but I can pretend to." Just look pretty, buddy!
Concern-trolling When it comes to Lady Gaga, one thing's for sure: homegirl's got her shit together. But that didn't stop some of her followers from tattling to Instagram that they're like, kind of worried about her. She tweeted on Thursday, "what the actual hell. hahahaha," along with a screengrab of the following concern-trolly email from Instagram:

We've gone through Gaga's Insta, and we have to admit we did find something troubling: a few days ago, the singer wore a trucker hat. On purpose. Okay, we're kinda concerned now, too. #savegaga
Tinder for Toto The mad geniuses behind Tinder announced "we're branching out" and posted a clever photoshopped pic of five French bulldogs in life jackets perusing "Tinder… For puppies." So if the dogs are taking over Tinder, does this mean we humans can start sniffing each other's butts to find a mate? We can only hope.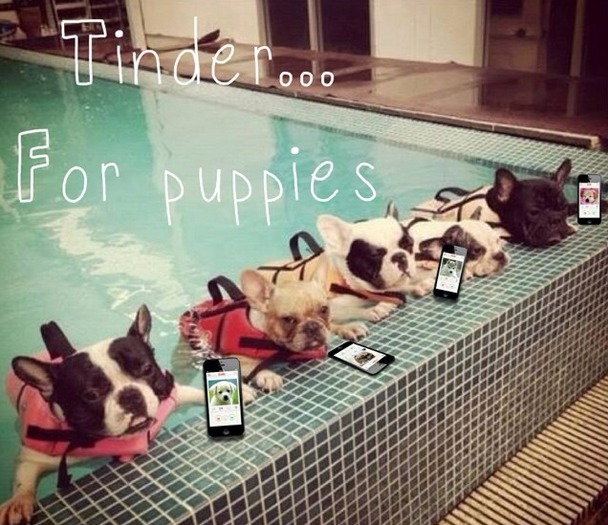 Long may she reign On Wednesday, we popped over to Long Island City for the "Queens Tech Bash," a celebration with a side of fundraising thrown by the Coalition for Queens. Organizers Jukay Hsu and Ben Wei dressed up for the festivities under the "performance dome" at MoMA P.S.1 and handed out awards to borough techies including Shapeways cofounder Mauleen Vogelaar (City Councilman Jimmy Van Bramer giving a shout-out to their mutual Dutch heritage), Songza CEO Elias Roman and CreativeWorx Engineering VP Dion Ridley for his diligent volunteering.