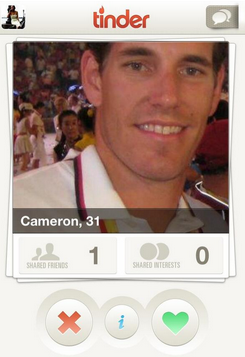 Tinder on. Hey ladies, is dating a Winklevoss on your tech bachelor power list? Well, fire up the Tinder because one half of the Winklevii has been spotted sleuthing the app for some hotties. A screenshot of Cameron's profile has been floating around Twitter, meaning he's single and ready to mingle.
Since we can't see past the initial picture, we're guessing some interests pulled from his Facebook profile include rowing, bitter indignation and suits from Brooks Brothers.
Speaking of the youth culture's favorite bits-mashing app: America's favorite redhead (suck it, Little Orphan Annie) Lindsay Lohan called out her younger brother Michael via Instagram for using Tinder earlier this week. But, as always happens when you doxx someone in your social circle for using the app, Ms. Lohan revealed that she's being cruising the hot-or-not hub herself. We'd totes swipe right for you, Lindz.
Also relevant to #tech: Ms. Lohan's recent illuminating blog post on why her love for photo apps. It's called, I LOVE PHOTO APPS.
Sweet tooth. We poked our head into Betaworks' Chelsea offices a few weeks ago and were impressed with its open-air confines and cutesy little fridges stocked with sodas. But now it seems like the perks don't stop at the startup studio, because they've got branded M&Ms. Just make sure someone keeps Poncho's sweet tooth in check.
All the selfie ladies Her Royal Highness Beyonce Knowles-Z dressed like a sexy doily and pretended to be a human Instagram photo this week. She posted a pic of herself doing so on—what else?—Instagram. As usual, Queen Bey didn't post a caption to explain what she was doing. Like Miranda Priestley, she just expects you to figure it out your damn self.
Judging by the clues put forth in the image, though, here's what we've gleaned: Ms. Knowles was situated in either a French-, Spanish-, Italian- or Portuguese-speaking nation at the time of the pic (note: "FOTO"); and she somehow wasn't offended by the fact that some rando standing behind her dared to wear a tiara in her presence. We can only assume he's her Official Hat Tester?
Those are Dickies if you think about it. Twitter CEO Dick Costolo tweeted an old picture of him and the gang (Jack Dorsey, Biz Stone and Evan Williams are all there) from Twitter's presentation at SXSW in 2007, but we can't stop looking at those ugly pants on him. He "barely remembers" those ugly cargo pants, and for good reason.
Anyway, we'd call this a terrifying #TBT picture but uh those trousers are harsh enough.
A very embarrassing correction! That's not Dick Costolo at all, and that is the joke. Betabeat regrets the failure to understand Dick Costolo's jokes, and very much hope he does not compare us to Carrot Top.
Cyber-bullying Former boxer and current face-tattoo-haver Mike Tyson recently discovered Uber, and tweeted at his "geek buddies," John Shahidi, Emil Michael, Marshall Osborne and Shervin Pishevar to thank them for showing him the light. The four geeks then presumably grabbed paper bags to hyperventilate into because they were so bowled over by the fact that such a famous, muscular man had mentioned them in public.
Warm fuzzies Speaking of Mr. Pishevar, he recently posted an Instagram of himself with a rather unusual gift. Here, we'll let him explain: "Thank you @brooke!" (That would be Brew PR power publicist Brooke Hammerling.) "She found out that I always wanted a Cabbage Patch kid when I was a kid & never got one. She surprised me with an original 1984 one still in its box." A very thoughtful gift, but it just inspires a lot of questions. For starters, how does such a topic even come up in conversation?