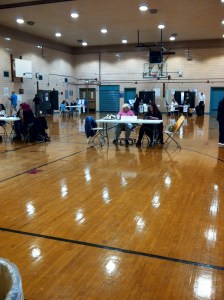 Today's runoff election is expected to draw a dismal turnout with as few as 100,000 of the city's registered Democrats casting their ballots in the public advocate's race between State Senator Daniel Squadron and Councilwoman Letitia James.
And that fact was clear this morning as voters began heading to the polls. Instead of the long lines and broken machines that have marred recent election days, voters instead reported lonely, near-empty auditoriums where only a handful of ballots had been cast.
"Yes, my polling station was a sad, lonely place," reported publicist Russell Schaffer, who cast his ballot in Forest Hills at JHS 190 Russell Sage. Like others, Mr. Schaffer said he was told by one poll worker that he was only the second person to vote in his election district since the site's doors had opened at 6 am.
The workers went on, he said, to bemoan the time and money being wasted on a single runoff–which is costing the city far more than the office's meager budget.
It was the same story elsewhere around the city, from Sunset Park, where Politicker also found an empty gymnasium, to SoHo.
"Tumbleweeds," reported Doug Gordon, a documentary producer who goes by the Twitter handle @BrooklynSpoke and tweeted that, at 7:45 a.m, he was only the fifth person to have voted in his election district at the Wyckoff Gardens Community Center in Brooklyn.
"I was the first one [to vote] at 845," said Carlo Scissura, who heads the Brooklyn Chamber of Commerce. "What a waste."
"Everything going well. Seems very light," said Board of Elections spokeswoman Valerie Vazquez via email.
Additional reporting by Colin Campbell.