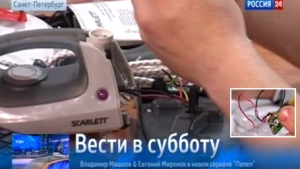 In case there wasn't enough paranoia in Russia, this should do it: The Chinese are supposedly hacking into electric irons and tea kettles to somehow set off massive spam attacks.
In a terrifyingly bizarre report from a Russian-owned television station, the Rossiya 24 version of the I-Team found that Chinese-imported kettles and irons are equipped with "spy chips" that resemble "little microphones." Apparently, the hidden buggers connect via unprotected Wi-Fi networks to a computer within 700 feet and spread viruses. Custom officials have found more than 30 products with the chips, including phones and dashboard cameras.
The suspiciously powerful chips are supposedly capable of blasting out spam attacks without the computer owner's knowledge. Per The Register, the story is legitimate and not some conspiracy theory concocted to distract from the disaster that is the winter Olympics.
One source the story mentions, Gleb Pavlov of customs broker Panimport can be found at the link we've popped in on the company's name. We've also been able to find this linkto an appliances company called "Sable Ltd", the very name translation engines say is the employer of one Innokenty Fedorov whose company found the bugged appliances.
It's time to activate Sorm and figure this out once and for all, you guys!