Last night, the Transom took to the Chase-sponsored "Blue Carpet" outside Madison Square Garden for a pre-game rally ahead of the Rangers' first home game of the season, in which they took on the Montreal Canadiens.
The fans were jazzed, and jostled for prizes from event host and supermodel Alejandra Cata. One longtime loyalist proved himself the oldest fan in attendance, at the age of 93, by flashing his ID, for which he received a T-shirt. A crew from Switzerland earned the title of furthest-traveling fans. They too received T-shirts. And one teen proudly proclaimed that, when given the choice between a car and hockey tickets for her birthday, she chose 10 primo seats to the game. (Ms. Cata, awarded the carless girl with a T-shirt and a hockey puck.)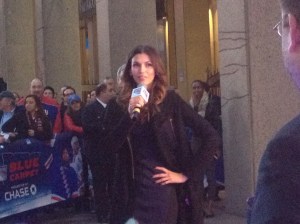 Among the Ranger alumni in attendance were Ron Greschner, Adam Graves, Pete Stemlowski, Brian Mullen and Stephen Matteau. Ms. Cata couldn't pronounce some of their names, but she was so pretty that it really did not matter.
With the recent multi-billion dollar renovations made to the world's most famous arena, everyone on the carpet, including Alysia Renier, who plays the badass jail warden on Orange Is the New Black, was speculating about what they might eat once inside.
"Anybody who's willing to go out there on the ice, and smash their bodies into someone else is amazing to me. I don't know what I'm going to eat yet," she confessed. "There's so much to choose from."
A slimmed-down Adam Richman, host of NBC's forthcoming program Food Fighters, was excited about the food as well. "Back in the day I'd be sitting in the blue seats, wearing my good sweatshirt," he said. "Now I'm all fancified. I'm ready to eat any kind of canapés you throw at me."
We then caught a quick glimpse of Sports Illustrated "Swimsuit Issue" model Anne V quickly scurrying down the carpet, along with her Mets pitcher boyfriend, Matt Harvey, who was making one of his first public appearances since Tommy John surgery earlier this month.
As for the actual game, the Canadiens haven't lost to the Rangers since March 30, 2012, and that did not change. The final score: Canadiens 2, Rangers 0.
But worry not, sports fans: The season is young and team spirit won't waver, according to Mr. Stemlowski. "When they love you, they want to bring you in and cook you a nice dinner," he explained. "When things go the other way, they're ready to jump on you and pound on you for a little bit, but that's New York for you.  It's the greatest city in the world, and we're gonna kick some butt."