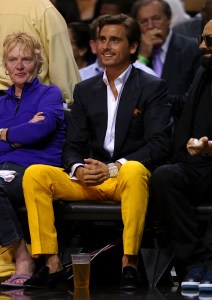 And in today's outrage to your sensibilities:
Scott Disik, aka Mr. Kourtney Kardashian aka Douchebag Bateman aka The Power Plover (ironic because he loves to kill alligators to make his shoes, Circle of Life, Hakuna Matata) has taking time out of his busy schedule of ignoring his children in order to make insane demands on unwitting journalists who for some reason believe he is a person of interest.

Michael Spies over at Vocativ.com reached out to Mr. Disick's people to interview the reality for " yet another piece on the lurid nature of celebrity for its own sake."
He was told that Mr. Disick would be happy to do the interview…for $50,000. Where does he think he is, Cannes? (Brad Pitt is a steal at only $3,190 per twenty minutes, meaning you could talk to Mr. Angelina Jolie for approximately five hours before you start hitting the price point for a man who literally doesn't do anything for a living and hemorrhages thousands a day.)
Or maybe a better question would be: Who does he think he is, his brother-in-law and/or sister-in-laws and/or their children?