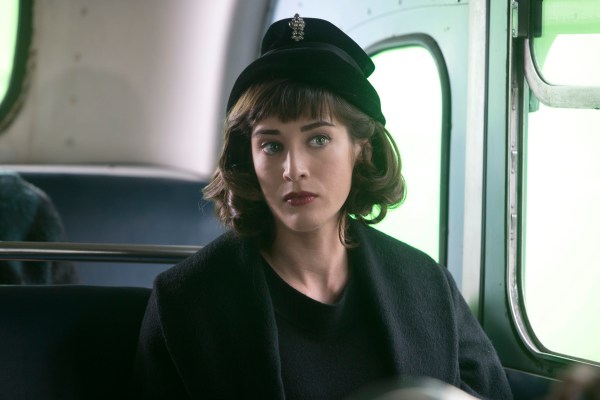 "Hopefully we won't go down as the last season in the Golden Age of Television," laughed Lizzy Caplan at the Thursday night screening of her new Showtime drama, Masters of Sex. Along with her co-star, Michael Sheen, the actress stood in the foyer of the Morgan Library & Museum greeting Cinema Society guests who came to the premiere.

We had floated the idea that the show might get a bump, premiering as it did on the same night as the finale of Breaking Bad and the season premiere of its lead-in, Homeland.
"God, what if they say we're the thing that killed good television?" Mr. Sheen, Welsh accent and all, pretended to fret. No one else seemed too concerned, though. And there was lots of good company, including Boardwalk Empire's Bobby Cannavale, who we congratulated on his recent Emmy win for Best Supporting Actor in a Drama. (During his acceptance speech, Mr. Cannavale called his new girlfriend, Rose Byrne, "the love of my life," although she was nowhere to be seen during last week's fete, which included a viewing of the steamy and provocative new show.)
Based on the Thomas Maier's biography, Masters of Sex: The Life and Times of William Masters and Virginia Johnson, the new hour-long drama deals with Dr. Masters and Ms. Johnson's work in sexuality research at Washington University in St. Louis in the 1950s. Despite the tension between the two leads, the sex on the show is more realistic (and, therefore, way more sad) than anything you'll find on Game of Thrones, True Blood or even between Sgt. Brody and Carrie Matheson, on Homeland. In the opening of the show, Dr. Masters is portrayed as something of a voyeur, hiding in a closet to spy on a hooker and her john while they get it on.
"I was really attracted to this script, because Dr. Masters is a fascinating character. I really respected his approach to the research," Mr. Sheen told the Transom. We said that the pilot had reminded us a little of Liam Neeson's portrayal of another pioneer of human sexuality in the 2004 film, Kinsey. "Oh, those two are nothing alike!" Mr. Sheen said, taken aback. "For instance, Masters was much more hands-on in his approach. He was, uh, involved with many of the studies."
And he wasn't just speaking clinically. Though Dr. Masters observed approximately "10,000 complete cycles of sexual response" in his lab testing, he also left his wife for Ms. Johnson in 1971. Not that this is necessarily a spoiler—unless the show decides to jump ahead two decades in the first season, there will be plenty of time to enjoy the two leads of Masters of Sex covertly flirt before the issue comes to a head, so to speak.