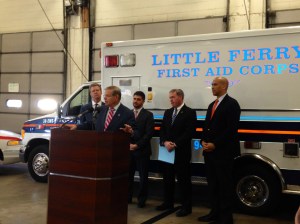 LITTLE FERRY – Sen.-elect Cory Booker may not have been sworn into his Senate office yet, but he's already on the job.
At least, that was the message from New Jersey's senior Senate lawmaker Monday.
The Newark mayor was on hand for an announcement in Little Ferry that the state will receive $1.4 billion in a second round of Community Block Grant Disaster Recovery dollars following the devastation of Superstorm Sandy. Booker was asked to attend the event by Sen. Bob Menendez (D-N.J.), according to the senior lawmaker.
"I asked our senator elect to join us and stand up here for the work that he's going to have to do," said Menendez.
Standing next to Booker was Sen. Jeff Chiesa (R-N.J.), who was tapped by Gov. Chris Christie to fill the seat of the late Sen. Frank Lautenberg.
"He has done a great job in being an ally," Menendez said of Chiesa.
"I appreciate [his] work," he said.
"I look forward to rolling up my sleeves," said Booker during the news conference after Menendez and Chiesa left the lectern early so they could head back to Washington.
The Newark mayor stood alongside U.S. Housing and Urban Development Secretary Shaun Donovan as the federal official spoke with reporters and first responders about the achievements that have been made in the recovery since Sandy.
"We've got more to do and I will keep coming back … to make sure that we do right by all of you," Donovan said.
The secretary's comments come after New Jersey's governor told The Associated Press over the weekend that he faults Congress and federal red tape for delays in the storm's recovery.
"There's no victory dance being done," responded Booker after he was asked about the challenges awaiting him in Washington.
"There's a lot of work to be done," he said, while also noting there has been significant progress.