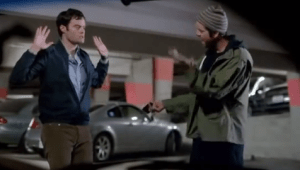 Look at what Bill Hader has done! His string of commercials for T-Mobile, which touts the carrier's upgrade program, is catching ire from New York Attorney General Eric Schneiderman for "belittling" cell phone theft. The ad shows the former SNL actor getting mugged for his phone–until the robber sees how old the phone is and tries to return it.
Along with his pal San Francisco District Attorney George Gascón, the two penned a letter to T-Mobile not about how annoying the ad is, but about how the campaign makes light of the growing problem of cell phone muggings that plague the cities. The duo have teamed up several times before, railing against telcos for supposedly not doing enough to protect consumers. Most recently, they urged iPhone users to activate a tracking feature to combat such crimes.
As picked up by CNET, the letter addressed to T-Mobile CEO John Legere slams the company, writing:
"This ad is more than tasteless: These robberies often turn violent and have resulted in severe injuries and multiple deaths," the duo said, adding: "The many victims of theft do not need to relive these harrowing incidents by way of a television commercial, and T-Mobile should not be lending credibility to thieves by reenacting the scenes with a comedic slant."
It also jabbed the company for using a scary scene to upsell customers to new phones. The company's Jump program is seen widely as a rip off. They also note that 1.6 million Americans had their phones stolen last year.
We posted the ad below to help you decide if its the mugging or Mr. Hader's face that bothers you the most.
http://www.youtube.com/watch?v=iUOlEGnHB8k