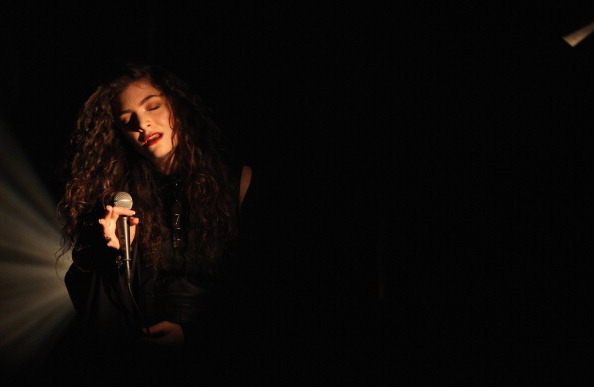 When we first heard Lorde's "Royals," we thought that a song with such a distinctive sound–the slow-thumping bassline punctuated with claps, the instant hit of a hook–would have to result in one-hit-wonder-dom. But we realized making a catchy chorus from, "gold teeth, Grey Goose, trippin' in the bathroom / Blood stains, ball gowns, trashin' the hotel room" in a song that's explicitly about not having those things, is kind of genius.
And we were proven wrong twice more this week, first with the release of Lorde's debut full-length album "Pure Heroine" this week, and then with her haunting performance at The Warsaw in Greenpoint last night.
Hailing from New Zealand, Ms. Yelich-O'Connor is only 16. Yesterday, she became the youngest artist to top Billboard's Hot 100 list since Tiffany's "Could've Been" hit number one in 1988. And that's not the only hot pink bubble Lorde popped yesterday; her single kicked Miley Cyrus's "Wrecking Ball" to the curb after it had led for two weeks.
Ms. Yelich-O'Connor's thoughtful lyrics and contralto voice are like Adele gone electro, so it's no surprise she's finding success among pop fans and indie kids alike. The crowd at the Warsaw last night was comprised of the latter, with guests skewing young and bespectacled. We noticed a lot of short shorts–and when Lorde took the stage, Ms. Yelich-O'Connor was sporting a dark pair, with boots and a big cocoon sweater.
Doubling as an event space for the Polish-American community (with quite a charming web presence), the Warsaw gives off an upscale Elks lodge vibe before the lights go out. Under ornate high ceilings, staffers with Eastern European accents dole out Polish beer and Polish food, filling the air with the distinctive aroma of sauerkraut all the way up to the balcony, a nice change from the usual live-music stench of sweat and stale beer.
We hadn't heard opener Until the Ribbon Breaks before, but the British Brooklynite's chilled out electronic R&B won us over pretty quickly–his Soundcloud features a 56-minute mix we've listened to no fewer than three times today.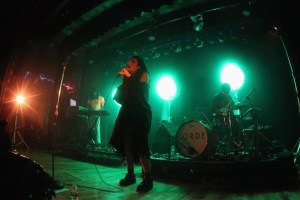 Between acts, a sneak peek at the headliner's set list revealed that midway through the performance Lorde would do "Ribs feat. Kanye." This reporter promptly texted three friends to brag about the apparent guest performance. We must have jinxed it, though, because Mr. West didn't show up.
Instead, Lorde covered a few bars of Yeezus's "Can't Hold My Liquor," as she has at other recent shows. Hopefully Ye's taken notice and they'll collaborate sometime?
Lorde opened the set with "Biting Down," the final track on her Love Club EP. She followed that with three songs from her new album: "Glory and Gore," "Tennis Court" and "Buzzcut Season." Next came "Swingin' Party," "Ribs" and the Kanye cover, "White Teeth Teens" and "Good Fights." She closed the show with "The Love Club," "Royals" and "400 Lux."
The young singer didn't talk to the crowd much but they didn't seem to mind, particularly when she sang the "Royals" lyrics, "We're bigger than we ever dreamed / And I'm in love with being queen," and they erupted. For a teenager whose single is beasting every Billboard chart it encounters, Ms. Yelich-O'Connor was remarkably chill–apparently, mellow is the head that wears the crown.
[youtube=http://www.youtube.com/watch?v=D8Ymd-OCucs&w=560&h=315]