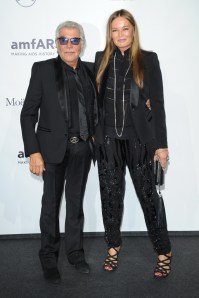 Although we weren't necessarily planning on going to Milan's Fashion Week this year—the city's social scene has become such a stale mess—Shindigger changed our tune when a gilded invite to the Foundation for AIDS Research's 2013 Milano Gala arrived.
A few days later, we boarded a flight to Malpensa Airport and hit the ground running. Antonio Marras's mystical couture collection, presented in a forest of nymphs, had us mesmerized. At footwear designer Giuseppe Zanotti's show, we bumped into hip-hop producer Rico Love. "I think this Champagne is going to my head," we heard him tell a handler.
Shindigger could barely handle the hyper-sexualized, hard-rocking clothes at Donatella Versace's show. Nor could we charge through to Glee's Nolan Funk and Selena Gomez, who sat front-row, swarmed by photographers.
"What a slutty mess," hissed one New York stylist, referring to the steamy collection.
One night, we spoke to Leigh Lezark, who deejayed the opening of Dsquared2's new rooftop restaurant above its headquarters.
"What are you most excited about for the fall?" we asked the stunning brunette.
"Furs," she responded with a hint of guilt. "PETA is gonna kill me!"
As Shindigger pounced on a prosecco refill, Ms. Lezark felt the need to explain herself.
"I've been vegetarian for years," she said. "But I just started understanding fur last year. When I put it on, I said, 'I'm finally warm.'"
The highlight of the week came as expected at amfAR's event. The red carpet was a sensational explosion of flashing lights. Shindigger entered La Permanente museum behind Roberto Cavalli and his wife, Eva, while Italian socialite Bianca Brandolini D'Adda purred and posed for her beloved cameras in a scintillating onyx gown.
We turned to the designer. "Signore Cavalli, can we pose a few questions?" Shindigger asked in Italian.
He analyzed us through his bedazzled shades and then dutifully deferred to his handsome executive director of global communications, Massimo Veneziano Broccia.
"Yes, this is O.K.," the power-publicist said.
"What makes this evening so special for you?" we wanted to know.
"The people! There's such a beautiful atmosphere of the fashion here tonight," he told us in his smoky Florentine accent. "Milano is starting to relaunch itself not only as the Italian capital of fashion, but also the world's fashion capital."
Shindigger grabbed another round of Champagne with the Dsqaured2 twins, Dan and Dean Caten, before entering the formal dining room.
"It's great to be here," opened emcee Juliette Lewis, who seemed either jetlagged or not quite sure of where she was and why.
"It's going to be a long evening," griped one Italian stunner in a Moschino dress, noting the benefit's five-hour run time.
"I'm sorry I'm not Sharon Stone," apologized Ms. Lewis, trying to regain her footing with the audience, poking fun at Ms. Stone, a boisterous past emcee. The laughter was genuine.
After dinner, it was bidding time for the flamboyant aristocrati. Auctioneer Andy Moose led the proceedings, which were aggressive and escalated quickly.
A never-before-published Terry O'Neill original of Sophia Loren sold for 25,000 euros. A print of Faye Dunaway after her Network Oscar win went for 65,000 euros. But it was the bidding war for a limited-edition Hublot Big Bang Costa Smeralda watch that set the room ablaze. Driving up the price was Mr. Cavalli. When the price reached 75,000 euros, he stood up and thrashed dramatically at his challenger, a refined man whom nobody seemed to know. In the end, Hublot agreed to give each bidder a watch if they each ponied up 100,000 euros. The men amicably agreed.
Afterward, Katy B. performed two unmemorable pop tunes, which nonetheless got the room on their wobbly feet before the raucous after-party commenced. A new shift of revelers joined the fray to dance to the mixes of deejay Chelsea Leyland.
The next morning, time was not on Shindigger's side as we stumbled very late into Marni's new show space. Fortunately, there was an electrical power outage, and the show started an hour late and models had to strut the runway senza musica.
"Had you ever been to a show that started so late?" we asked Teen Vogue's darling editor in chief, Amy Astley.
"Oh, yeah! Back in the day—Marc Jacobs," she recounted. (Shindigger too had been in attendance at that fateful show, which started some two hours late.)
"If you could choose the soundtrack, what would it be?" we wondered, since no music was playing.
"I honestly like music with words," Ms. Astley admitted. "Today, it's all about house music and Euro dance music, but I started my day with the Beastie Boys."
In truth, we are suckers for some disco, like the soundtrack at Etro's show, which featured Donna Summers's "Sunset People."
"I like music during a show, but [Marni] was very Zen, and it was a strong show," said Glamour magazine head honcho Cindi Leive following Missoni's presentation. "At first, you hear technical difficulties, and you think it's like when there's a sick passenger on the subway, which is what they have to say so that no one gets homicidal," she laughed.
"What did you think of the amfAR event last night?" Shindigger inquired as we walked the style maven to her driver.
"I thought it was fun," she dished. "It's always a long night, so it's all about who is at your table. I was lucky enough to be with a really fun crew."
Shindigger was lucky enough to have bottomless Champagne.