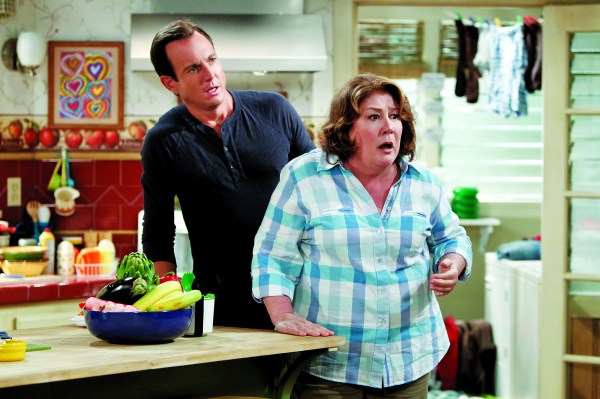 Given his experience on some of television's best and most critically lauded comedies, including Arrested Development and 30 Rock, it's easy to imagine Will Arnett sitting at his first table read for the new CBS sitcom, The Millers, and wondering how the hell he got there.
On one hand, the multicamera show, which premieres this week and co-stars heavy hitters Beau Bridges and Margo Martindale, must have exuded some level of comedic potential (even though both Arrested Development and 30 Rock were single-camera shows). On the other hand, one wonders if Mr. Arnett suffered a slow deflation of purpose after hearing lines from the pilot script being read aloud—lines like, "Relax. It's a fart."
When asked about this sharply banked turn in his comedic direction, Mr. Arnett—whose reputation as part of the cutting-edge comedy world was likely bolstered by his nine-year marriage, which ended last September, to former Saturday Night Live cast member and Parks and Recreation star Amy Poehler—simply wasn't having it.
"It's become very in vogue to do single camera, and some people look down their nose at the [multicamera] format. But I reject the notion that the multicamera format is inferior to single-camera," said Mr. Arnett, 43, who takes an even stronger position on the legitamacy of crude bodily function humor.
"As [The Millers creator] Greg Garcia said at TCA, I don't give a shit. Fart jokes are funny. People laugh at farts. We had fart jokes on Arrested Development, in season one. I think that people have a selective memory when they think about this."
As Nathan Miller, a local newscaster whose life is disrupted when his parents, played by Ms. Martindale and Mr. Bridges, get divorced, Mr. Arnett has no choice but to allow his mother to move in with him. As Nathan's father, Mr. Bridges is the stereotypically bumbling sitcom dad. In the premiere alone, he demonstates an astounding ineptitude for life, proving incapable of operating a cell phone, a remote control, a microwave oven, a coffee maker or a toilet.
For Ms. Martindale's part, she plays the quintessential nosey and inappropriate mom. She talks openly about catching her husband masturbating, draws out conversations about her farts longer than any human should and even clips her adult son's toenails while he sleeps.
Together, the pair make a convincing case for the merits of orphanhood.
If Arrested Development and 30 Rock are the TV-comedy equivalent of early National Lampoon, then The Millers is the latter-day version of that same fallen franchise. Why blaze comedy trails when there are broad, easy laughs to be had from the mustiest and crudest of premises? If the jokes don't work, the laugh track will.
It's the sort of career move one can imagine the comedy nerds calling a sellout for Mr. Arnett. But the truth is Mr. Arnett's experience includes sitcoms of every stripe. Asked if he knew how many sitcoms including pilots he has filmed over the course of his career, he responded, "Not exactly. Do you?"
We had put together a quick count of 10. Mr. Arnett informed us of an eleventh but admitted he might have forgotten a failed pilot or six along the way.
***
The number of cameras isn't the only change for Mr. Arnett on The Millers. Like Rob Reiner in All in the Family, Ted Danson in Cheers and Judd Hirsch in Taxi—all three of which Mr. Arnett cited as "all-time great TV comedies" and personal favorites—the actor has taken on the role of the straight man, the center around which a universe of madcap humor can revolve. In that way, Nathan Miller is missing the one element fans have come to expect from Mr. Arnett's roles: a sense of comically undeserved entitlement.
Arrested Development creator Mitch Hurwitz, who considers Mr. Arnett one of his closest friends, compared him to Mr. Danson in his ability to excel at any style.
"Will is willing to show things that a lot of actors who play macho parts are not willing to show," Hurwitz said. "He's willing to let the character be emasculated as the punch line to the arrogance, and he's willing to let him be vulnerable and weak. Will is a truly funny guy, and he wants to go where the comedy is."
We asked Mr. Arnett about his propensity for playing smug characters and why his career seems to orbit around individuals who are delusionally self-absorbed.
"I don't know. We'll have to call my therapist. Maybe I'm trying to work out some deep untreated issues," he said. "To me, it's something I can get my brain around. I can say, here's something about this guy. He's got stuff happening on a couple of different levels. I find that more interesting. But as to why I'm good at it, you're not gonna get me to say that I'm good at it because I'm an asshole. I'm sorry, Larry. I won't say that. I hope at the heart of it that that's not the truth. I don't think it is."
Mr. Hurwitz confirmed that the actor is night-and-day different from the narcissists he portrays. Still, he wondered if there's not a sense of understanding for this type of behavior at Mr. Arnett's core.
"Some of it is that he's not as confident about himself as his characters are, but he understands that temptation," Mr. Hurwitz said. "He's really a very generous guy, he always puts other people first, and yet he must somehow, at some level, understand the temptation to look in the mirror a lot or understand the temptation to be superficial."
Whatever clues to Mr. Arnett's real-life psyche might be found in his emotionally stunted personifications, the actor sees depth in the damaged creatures he has brought to life, which might be the real secret to why he inhabits them so seamlessly.
"I never saw Gob on Arrested Development as smug. He's a guy who is completely untethered to reality, and he doesn't really know how to live in this world in any sort of reasonable way," he said.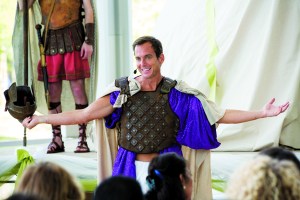 "If you look at Gob through the years, he's a guy who is deeply disturbed, severely unloved, very insecure and potentially mentally ill. Then you look at Devon Banks, and he was a guy who was blinded by his own ambition. I've always felt like the characters I've played—the term I'd rather use is they're broken. That to me is interesting."
***
So where, then, does Mr. Arnett find his way to Nathan Miller?
"Nathan Miller may be the most sane person in the environment we find him in," he explained. "And yet, he's also still a little broken. He's a guy who's at a crossroads in his life."
Part of Miller's brokenness is that he is recently divorced. Given Mr. Arnett's own recent divorce, that would seem a straight path into the character. But Mr. Arnett insists that any parallels to his own life are coincidental, just as they were in his last starring role in a sitcom, in NBC's doomed Up All Night, a single-camera show in which he played a new dad.
"I'm not trying to work out any of my personal issues through my work," he said. "I've known Greg Garcia for years, mostly socially. He sent me the script, and I met with him and Jimmy Burrows [who directed the pilot]. It circles back to the original point, which is that to go from having spent 10 to 12 years in the single-camera format to now work with these guys seemed like such a dream and such an opportunity."
Speaking of new opportunties, Mr. Arnett's next project is as great a departure from any sitcom—single- or multicamera—as The Millers is from Schindler's List. At the time we spoke, Mr. Arnett had just spent three months filming the Michael Bay-produced reboot of Teenage Mutant Ninja Turtles, playing a character named Vernon Fenwick who partners with Megan Fox to help the turtles defeat the bad guys.
"It's probably much closer to an action film than anything and, for me, a real departure," Mr. Arnett said. "We've got chasing, fighting Ninja dudes—all of it."
Clearly, worries about comedic street cred aren't keeping Mr. Arnett up at night. As for the die-hard comedy geeks who've followed him this far—those who have contributed to the voluminous cache of Arrested Development fan art and would sooner twerk naked for Rush Limbaugh than sit through 22 minutes of Two and a Half Men—they can get on board The Millers train or not. With or without them, Mr. Arnett is enjoying his latest project and looks forward to wringing all the funny that he can out of the opportunity until the gods of Nielsen send him on his way.
"Maybe I do run the risk of alienating a certain demographic, the so-called comedy nerds," he said. "But that's a term I reject, because everybody is a comedy nerd. I don't think that phrase belongs to anybody. Everybody likes to laugh."