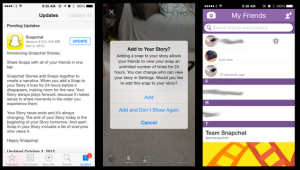 Arguably, the most unique aspect of Snapchat has been its epithermal nature. You better savor sext that for a full ten seconds before it dissolves into nowhereville. But today, the app has an update called "Snapchat Stories" that lets users stitch together snaps (photo or video) that last for a full 24 hours before they disappear. Think of how creative you can be with your sexts now!
It's basically the same process as creating a snap: Tap the camera button and a new button pops up that sits near the timer for a star. Pressing that will save your picture or video into a collection for you to send around to as many friends you want. There's also an eye icon that shows you who viewed your story.
Excited yet?
CEO Evan Spiegel spoke to the Verge, explaining the new feature still differs from competitors like Facebook and Twitter in that the stories aren't permanent, so there's more of an incentive for users to be themselves
"There's this weird thing that happens when you contribute something to a static profile," said a shade throwing Mr. Spiegel. "You have to worry about how this new content fits in with your online persona that's supposed to be you. It's uncomfortable and unfortunate."
The 23-year-old CEBro didn't spill how he plans to monetize the app, but Stories is obviously a step toward making it lucrative. Just think of being forced to watch a day-in-the-life story of an Oreo being dunked into a glass a milk or a celebrity giving users an intimate look at their lives.
Anyway, look at how much fun this cool indie band is having with Snapchat Stories! It's a neat way to remind yourself that your life isn't going to be as fun as this.
http://youtu.be/-ie5_aaHOhE