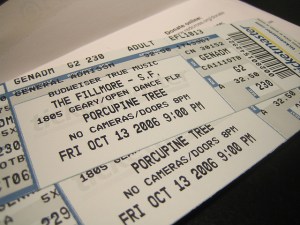 A night out with WillCall If you want to see a show but hate Ticketmaster, you don't have too many options. Most of the time, you can either try buying secondhand from Craigslist or StubHub, or you can stay home. But the WillCall app, which originally launched last year, capitalizes on the remaining few venues (mostly smaller, all noble) that don't have deals with big sellers to bring you a curated list of recommended events and a quick way to get tickets. This week, WillCall announced that the latest version of the app will also make it easy to transfer tickets between users, in case they're a gift or someone has to back out at the last minute. 
Goooooooal! Being a fan of a super rando sports team is a hard life. Waking up far too early on a weekend to watch soccer, I mean football, games alone in your PJs because you can't stand to miss your team losing one more time will certainly test your allegiances. But the new site SportChaser hopes to take away the darkness and connect you with other fans. The site lists bars in New York City that regularly show sports games, and users can search by bar or event to find one nearby. It's a way for bars to attract new customers and for fans to convince themselves they're aren't alone.
Master class Remember when Cornell NYC Tech announced their new "connective media" degree program a few weeks ago? Well, this week, they also announced the first round of faculty who will be joining the program, and the crew includes some intimidatingly smart profs. There's machine learning specialist Serge Belongie, social media expert and Seen founder Mor Naaman, and cryptography/privacy researcher Rafael Pass. Say hello to the techie dream team.
Welcome to the club Microsoft's group messaging app, GroupMe, got a facelift this week for iOS7. The new version has the characteristic flat look, but it also now allows users to take and stream live or prerecorded video directly from the chat windows. That way, videos can be shared with everyone in the group all at once.
A whole lotta buzz Apple's 2D game engine, SpriteKit, was released alongside iOS7, so it's only been out for a few weeks. But already the first major game for iOS built entirely on SpriteKit has been released. And, get ready, it's called Disco Bees. Yep. It's a hexagonal matching puzzle (or buzzle?) game in which pieces gravitate towards the center of the screen, like a honeycomb. Oh, and adorable little bees do an adorable little dance every time you beat a level. Disco Bees is brought to you by two coders, one of which is Andy Ross, guitarist for OK Go. In other game news, Random House Digital released its first original game app. In "Catch the Berry" users play as Huckle, catching those eponymous berries and collecting gems.
Spooky, scary The creative powerhouse that brought you the seminal Fatify, Baldify and Vampify now brings you Wolfify, an app that adds werewolf effects to your photos. Wolfify will give you some extra hair and fangs, and show your were-self getting even nastier on the full moon. Because what is October without ridiculous Halloween novelty apps?