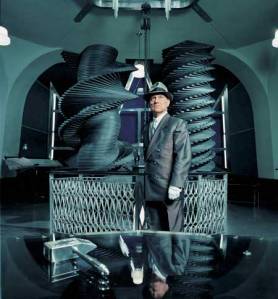 Buried deep in The Wall Street Journal's cringe-inducing report on the $75 million sculpture and public plaza Thomas Heatherwick is designing for Stephen Ross's $15 billion Hudson Yards development is this gem: apparently, Mr. Ross walked out of a meeting with Richard Serra when the amazingly talented, world-famous New York artist explained that he doesn't really do mock-ups, or compete for commissions.
Here is the excerpt:
Mr. Ross was intensely involved in the selection of an artist to develop a vision for the public space at the core of the development. He personally solicited ideas from such high-profile artists as Jeff Koons, Anish Kapoor, Maya Lin and Richard Serra, according to people familiar with the discussions.

Mr. Koons and Ms. Lin didn't respond to requests for comment. Mr. Kapoor couldn't be reached. Mr. Serra said that at his meeting with Mr. Ross, he told the developer he wasn't "up for" submitting a plan at the same time others were vying for the work, explaining that his process is to see a site and work with engineers as he develops an idea.

According to Mr. Serra, Mr. Ross said, "Will you at least make me a sketch?" Mr. Serra said he declined, saying that wasn't how he worked, and Mr. Ross, disappointed, got up and left the room, ending the meeting.
Mr. Heatherwick on the other hand is responsible for this. Thanks a bunch, Stephen Ross!