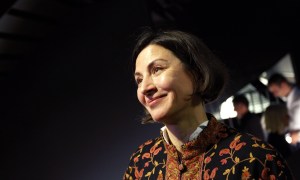 The small, luminous painting after which Donna Tartt's third novel takes its name, The Goldfinch, is by the Dutch painter Carel Fabritius, a student of Rembrandt. You can go see it in New York if you like, at least until Jan. 19, at the Frick, where it's included in an exhibition that shared an opening day with Ms. Tartt's release date. The painting was made in 1654, the same year Fabritius was killed at age 32 due to an explosion at a gunpowder store in Delft, a tragedy that left more than a hundred people dead and is echoed in the stunning set piece that opens Ms. Tartt's expansive, resonant novel. In an ambiguously dated near-contemporary Manhattan, 13-year-old Theo and his mother, left to depend on each other after his deadbeat father's departure some months before, are visiting a Dutch Masters exhibition at the Metropolitan Museum when a bomb explodes, killing her and others. Theo escapes the wreckage but first has a dreamlike, otherworldly interaction with an old man who isn't so lucky, whom Theo had seen wandering the gallery with his striking niece before the blast. About to die, he convinces Theo to take The Goldfinch, a longtime sentimental favorite of Theo's mother, out of the museum and asks him to deliver a ring to what turns out to be a West Village antiques store.
Though Theo intends at first to return the painting, the logistics of that act are increasingly difficult to confront, and its presence variously comforts and haunts Theo for the next 14 seminal years. Immediately after the explosion, bereft of options, he goes to live with the wealthy Park Avenue family of his friend Andy. In his simultaneous gratitude and deep-seated unease in these hushed, posh surroundings, Theo-as-interloper calls to mind an Upper East Side version of The Line of Beauty's Nick Guest; meanwhile, he's also building a secret life downtown at the antiques store, where he has found a sort of mentor in Hobie, the dead man's business partner, and an object of lifelong limerence in Pippa, the girl Theo had seen in the gallery before the explosion, which badly wounded her.
When his father resurfaces, Theo is forced to move with him to Las Vegas. Almost entirely unsupervised, he gets drunk and high every night with a new friend, the bored, passionate, cosmopolitan Boris, before escaping back to New York and Hobie's shop a few years later, eventually becoming a partner in its dealings.
At each turn, Ms. Tartt's detail, internal and external, is exquisite: the scorching, desperate hollowness of Las Vegas's abandoned developments; the precise altered states wrought by alcohol, downers, cocaine and heroin; the particulars of the art and antiques markets, and the odd birds who populate their fringes, which call to mind Orson Welles's F for Fake, and are every bit as compelling. Consider a lesson imparted by Theo's mentor: "Hobie made me see the creaturely quality of good furniture, in how he talked of pieces as 'he' and 'she,' in the muscular, almost animal quality that distinguished great pieces from their stiff, boxy, more mannered peers and in the affectionate way he ran his hand along the dark, glowing flanks of his sideboards and lowboys, like pets."
As with certain paintings, the pleasure of the novel lies largely in the balance between the bright, sharp focus of this detail and what is left in shadow, Ms. Tartt's psychic chiaroscuro. It's tempting to call the novel "richly emotional," and it is, but a phrase like that operates too often as shorthand for a kind of fundamental, reassuring warmth that's hard to find in Ms. Tartt's work. As with her other novels, The Secret History and The Little Friend, The Goldfinch mostly trades in dread, anxiety, paranoia, long-gestating panic. Ms. Tartt's understanding of her characters' emotional lives is acute, and her sympathy for them is strong—probably strongest when she is exploring their bewilderment at the possibility of ever being understood.
Which is also how they best relate to each other. Late in the novel, Pippa explains to Theo that kids with PTSD often experience stunted growth, staying forever the same height as they were when trauma changed their lives. Theo is self-aware enough to realize the same principle animates his unrequited obsession with her: "My love for Pippa was muddied up below the waterline with my mother, with my mother's death, with losing my mother and not being able to get her back." That recognizing the association isn't enough to stifle it is exactly the kind of dense human problem the novel illustrates most effectively.
Though The Goldfinch is nearly perfect in its construction, a few moments chime a little oddly, most often when its Victorian impulses bump up against the contemporary setting. We don't know exactly when the book starts, but it's post-9/11—Theo has an iPod—meaning its climax, in Amsterdam, happens a couple of years from now. So the very occasional pop culture reference can be temporally disorienting, as when Theo gets nostalgic about indie rock ("Oh, wow, listen, they're playing 'Comfy in Nautica,' do you hear that?"), or outright silly, as when Ms. Tartt invokes the Parseltongue language of Harry Potter.
Sometimes, too, Ms. Tartt lets her own command of language get the best of her, and a character otherwise not particularly articulate, describing a vacation, will let slip something like, "Wasn't it glorious? Those red and orange sunsets? Fire and embers? Atomic, almost? Pure flame just ripping and pouring out of the sky?"
Mostly, though, Ms. Tartt's elegant subtlety of suggestion is thrilling to witness. At one point, after a violent act, Theo, like Lady Macbeth in a hotel bathroom, compulsively attempts to clean up. His description—"scrubbing myself with the lily scented bath gel until I smelled like a funeral wreath"—works like Edo-era poetry.
The Goldfinch is written in first person, but Theo waits until its end to address his reader, a trick produced so late in the game it is as jarring as a character in a film walking over to a radio and turning it off to halt the scene's soundtrack. But Ms. Tartt deserves her last-act metadiegesis. When Theo asks, rhetorically, "How can I see so clearly that everything I love or care about is illusion, and yet—for me, anyway—all that's worth living for lies in that charm?" he's raising a paradox but also cementing a thesis. By then, the novel has done justice to the questions it raises—about trauma, guilt and culpability, aesthetics and authenticity, love and morality—and has earned the right to sit with them and weigh the answers.
Or, perhaps more accurately, to mull the many ways a person's relationships to these topics can change. The Goldfinch is at heart the story of Theo growing up; and it isn't until close to the end of the novel, when Theo looks at Fabritius's work for the first time in many years, that Ms. Tartt reveals what a brilliant strategy it has been to set a bildungsroman against the backdrop of the painting. "I was different," he says, "but it wasn't."
editorial@observer.com