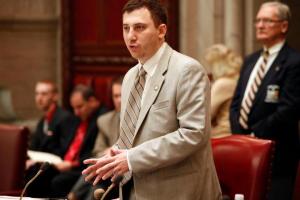 Republican candidate David Storobin has a not-so-friendly wager for his newest rival in a bitter City Council race.
Mr. Storobin bet that Russian media mogul Gregory Davidzon, who announced yesterday he's waging a seemingly quixotic write-in campaign less than three weeks before Election Day, would earn just a handful of votes.
"I will make a bet with anyone that he will not break 100 votes," Mr. Storobin, seeking term-limited Councilman Mike Nelson's seat in south Brooklyn, told Politicker last night. "As a write-in candidate, you almost never break 100 votes."
Mr. Storobin–clearly not a fan of Mr. Davidzon, who strongly backed his opponent in a State Senate race last year–further argued that Mr. Davidzon is uniquely unpopular in the district's Russian-speaking community.
"Davidzon has almost the highest negatives of any person in the Russian community, by far the highest negatives," Mr. Storobin insisted. "He had to get off his own radio station for a while because people were cursing him out. He's flat-out hated by the large majority of people."
Attempting to upend one of the most competitive council races in the city, Mr. Davidzon has said he is running to ensure that a Russian-American wins the heavily Russian district, even though Mr. Storobin himself is a Russian immigrant. Mr. Storobin also faces Democrat Chaim Deutsch and Working Families Party candidate Igor Oberman, who lost the Democratic primary to Mr. Deutsch. (Mr. Davidzon isn't registered with a political party–or to vote.)
Insiders agree that Mr. Davidzon's write-in campaign is a long-shot, even though he's known as a local power broker. As the owner of a radio station and several Russian-language newspapers and magazines, Mr. Davidzon boasts the support of local district leaders and Assemblyman Alec Brook-Krasny, but voters tend to opt for candidates who are actually on the ballot.
"He expects people to be stupid to not realize why he's running. They all know the reason he's running is to make sure a Russian candidate who is not submissive to him is not going to be able to win," Mr. Storobin charged. "As a result, he will completely destroy himself and not only will he not get 100 votes, he will not even show his face in Brighton Beach anymore."
Update (2:13 P.M.): Mr. Davidzon said he would not be engaging in any "mud-slinging" with Mr. Storobin.
"I don't want to perpetuate the mud-slinging in this race. I entered the race to energize the Russian community to vote, as well as to address the issues facing both the residents of the 48th Council District and all New York City residents," Mr. Davidzon said. "I intend to remain focused on those issues and am confident that the majority of Russian voters know my name and I hope respect what I have done for the community."