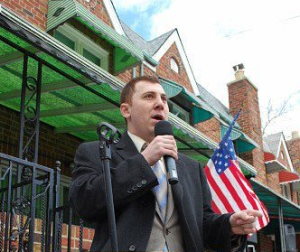 Republican City Council candidate David Storobin charged that his Democratic rival doesn't live "anywhere near" the Brooklyn district they are vying to represent–even though records show he does–adding another level of aggression to an already chaotic race.
Speaking at a fund-raiser last night, Mr. Storobin claimed that his rival, Chaim Deutsch, a staffer to term-limited Councilman Mike Nelson, lacked awareness of the area's recent struggles because he doesn't live within its borders.
"My opponent is a very nice man," Mr. Storobin begins in a video recorded by blogger Jacob Kornbluh. "He doesn't live anywhere near this district. He needs a map to figure out where this place is. Most of you don't; I bet none of you do."
"You don't need a map to find this place and that matters, I'll tell you why," he piled on, citing his experiences during Hurricane Sandy. "Because when I was walking by those sand piles, I saw them every single day … I saw them in front of my house. That sand was in front of my place. When the boardwalk is broken, when a business gets shut down, I see it every day."
According to the Board of Elections, however, Mr. Deutsch established residency on East 19th Street, within the boundaries of the recently redrawn 48th District, on Oct. 9. He also lived within the district's old bounds before the decennial redistricting process–though his address was cut out of the district during that process.
Candidates are legally not required to live in the districts they are running for until Election Day.
In a statement, Mr. Deutsch brushed off Mr. Storobin's accusations.
"I'm not interested in talking about my opponents," Mr. Deutsch said. "What I'm interested in is talking to the residents of southern Brooklyn and listening to their concerns about the critical quality of life issues the district faces and how to best address them."
The council district, which ropes in conservative Russian-speaking and Orthodox Jewish communities in Midwood, Sheepshead Bay and Brighton Beach, has produced one of the more heated general election contests in the otherwise heavily-Democratic New York City.
In addition to Mr. Deutsch, Mr. Storobin is facing Igor Oberman, a Russian-American continuing his bid on the Working Families Party line, and Russian media mogul Gregory Davidzon, now waging what appears to be a quixotic write-in campaign.