If there remain any lingering doubts about Bedford-Stuyvesant's ability to attract bold-faced and beautiful to its once-menacing blocks, the migration of Scandinavian models to the neighborhood ought to lay them to rest. City records show that Swedish supermodel Sara Blomqvist shelled out $1.2 million for a Bed-Stuy townhouse.
Ms. Blomqvist, who made her first magazine cover appearance at age 18 for the fall 2007 issue of Plastique—and who has subsequently been the face of Dolce and Gabbana and Missoni—is due to wed the British model Jeremy Young, and given the nature of the couple's new digs, we suspect they may be planning to expand their family soon.
The townhouse, a somewhat squat (not at all like Ms. Blomqvist) three-story structure on Skillman Street, which was listed with Barbara Brown-Allen at Douglas Elliman, is currently configured as a multi-family, with a one-bedroom unit on the top floor and a generous two-bedroom duplex on the bottom two. The listing notes, however, that the previous owners— Lester Nichols and Janice Lai, who purchased the property in 2006 for $799,000—converted the home from a single-family affair in order to generate rental income from the one-bedroom unit. So it might not be all that hard for Ms. Blomqvist and Mr. Young to unify the house once again. Then again, it could be comforting to have a place to sequester one's rug rats if they become especially unruly.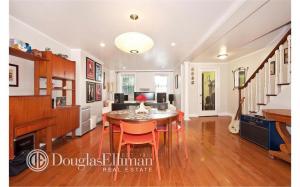 Having conquered a fair portion of worthy catwalks, best-of lists and glossy covers, Ms. Blomqvist made her feature film debut last April in Sommarstaellet, an emotionally-fraught tale of a summerhouse reunion thrown into chaos, as long-buried scars mix with copious consumption of intoxicants. Filmed with hand-held cameras and improvised dialogue, the film reportedly demanded much from its cast. Swedish directors Marcus Werner Hed and Johan Von Reybeikel went so far as to require "psychodrama exercises" of their actors in order to obtain realistic performances.
Whatever tensions Ms. Blomqvist suffered during the making of the film, however, we feel sure that she remains quite unprepared for the punishing frustrations and disappointments that inevitably await those who come to rely on the G train.