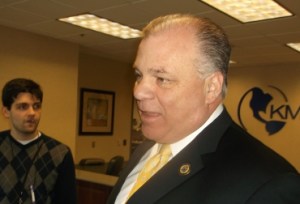 SPRING LAKE HEIGHTS – The one word Senate President Steve Sweeney has to describe his Republican counterpart in the Senate is "desperation."
The Senate president used the word to describe Senate Minority Leader Tom Kean after news broke that Sweeney's campaign committee is hoping to freeze more than $75,000 in contributions to the GOP candidate challenging Sweeney in his home district.
"Desperation to win is clouding his judgment," Sweeney told PolitickerNJ at the Monmouth County Democrats Annual Chairman Ball Tuesday night.
The lawsuit, which names Kean, claims Sweeney's opponent, Niki Trunk, accepted donations from Republican state Sen. Joe Kyrillos that exceeded contribution limits. An amended campaign finance report later showed the money had instead come from the leadership PAC controlled by Kean.
"It looks like there's some wheeling going on and the coordinating of campaigns," Sweeney said. "I want to know how Tom [Kean] explains it."
The Senate president continuously referred to the upper chamber's minority leader as being "desperate" in his attempt to pick up six seats in the Senate and take control of the Senate.
"You went after six and you won zero," said Sweeney, referring to Kean while predicting the results of the election in two weeks.
"And Tom [Kean] has to explain that," he said of Kean's members in the Senate. "I think he realizes he's failing his caucus."
Late last week, Kean told PolitickerNJ he expects to pick up enough seats during the Nov. 5 election to take the reins of Senate president.
Unlikely, says Sweeney. And what's more, Kean's caucus will likely be looking for answers as to why the GOP failed to grab any traction, he said.
"If it was me, I wouldn't be happy with my leadership," Sweeney said.
But what of retaliation against Kean or Senate Republicans?
When pressed on whether Kean's campaign tactics in Sweeney's legislative district and other races in the state would spur backlash against Republicans hoping to introduce legislation in the upper chamber, Sweeney brushed off the question, only to say the election is two weeks away and he's "anxious to finish" the campaign season.
"We have elections and I feel confident we're going to win ours and he's not going to win his," he said.