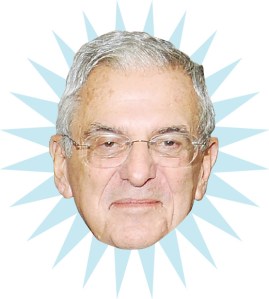 These captains of the industry have weathered every type of PR storm. They've navigated crises, launched brands and achieved global success—all while remaining sane. We've asked five industry titans to reveal the biggest win of their careers—and pass on some advice to newly hatched baby publicists. 

Biggest Coup: Completing law school at night and graduating first in my class at St. John's University in 1959. I used that knowledge to help advise my PR clients with a broad view of our economy, civic life, social environment and the impact of publicity.
Words of Wisdom: Commit to high ethical standards. Draw an ethical line in the sand and never cross it—it's good business and people will trust you.
Marian Salzman, CEO, Havas PR
Biggest Coup: Helping make 2013 the company's best-ever year. I snuck back to work just two weeks after having my second brain tumor removed—I still had staples in my head. No one says I made a big contribution, but being there definitely helped me recover insanely quickly.
Words of Wisdom: You are joining the business of reality branding and real-time news crafting. Figure out how to codify your brand in 140 characters, including a memorable hashtag, because attention spans have shrunk to nearly zero.
David Finn, Chairman and Founder, Ruder Finn
Biggest Coup: I'm proud to have worked with so many great visionaries throughout my career, from Kofi Annan, John F. Kennedy and Henry Moore to leaders of some of the world's greatest companies and global institutions, including the U.N., the Vatican and the World Bank.
Words of Wisdom: Take a step back and objectively examine problems from different points of view. The best practitioners are those who can step aside from their personal prejudices to think critically about an issue.
Biggest Coup: Being named PRWeek's Large Agency of the Year and overall Agency of the Year this spring. When I became CEO in 2002, Cohn & Wolfe was considered a boutique agency. We've evolved to compete through aggressive global expansion, a growing roster of innovative clients and a culture rooted in entrepreneurialism.
Words of Wisdom: Young employees should join an agency where they can experience a range of communication disciplines and build a solid understanding of integrated marketing.
Biggest Coup: Early in my career, I played a leadership role on a high-profile proxy contest in which we successfully defended the board of directors from a hostile investor. This taught me that when you are a strategic partner, there is no difference between communication objectives and business objectives.
Words of Wisdom: Focus on measurement and business value. Whatever your expertise, be able to measure the impact of your communication strategy in business terms. Those who do it well are viewed as strategic investments because their clients can calculate a return. 
Howard Rubenstein image by Getty