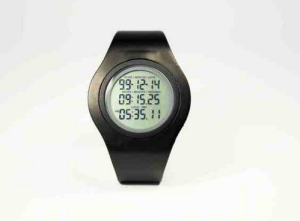 Here's something to chew on: Every day that passes means you're one day closer to death. But the question of when, exactly, you are going to die is hazy, so leave it to a project on Kickstarter to ballpark the date of your funeral. Meet Tikker, a morbid smartwatch that guesses when you're going to die down to the second.
In order to receive your judgement day, users must fill out a health questionnaire, subtract your current age and hope you don't get crushed by a car. After that, the watch starts ticking, though it also tells you the current time. It's nod to the watch's slogan "Make every second count" since we're all eventually going to die.
Complete with a Steve Jobs quote, Tikker's description on Kickstarter says it's "to remind you to make most of your life, and most importantly, to be happy." It adds: "A week spent in love and happiness can be worth more than years spent in agony." That's debatable.
For a $40 pledge, you'll get a Tikker when it ships next April. Notably, if you have a $1,000 lying around, you can get a Tikker in a Pantone color of your choice. You don't need one of these watches to see its Nov. 1 fundraising deadline approaching, but it's less than $10,000 shy of completing it.
At least it's not a Samsung Galaxy Gear.
(H/T The Verge)