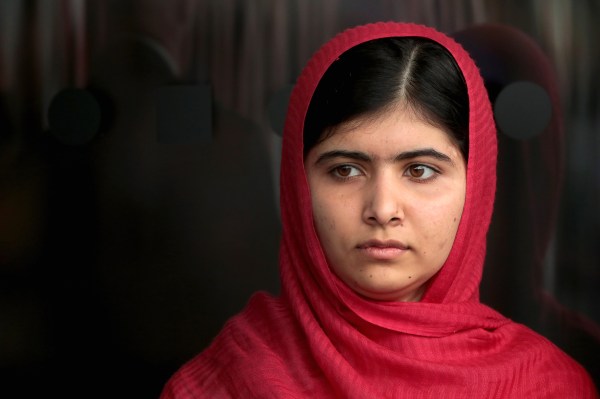 Last week, Malala Yousafzai toured the NYC-D.C. axis. The 16-year-old Pakistani Nobel candidate is a powerhouse, mesmerizing in her poise and courage in everything from staring down Taliban misogynists to charming Jon Stewart to telling the president of the United States to end drone strikes.
I had the honor of meeting her at a reception at the 92nd Street Y. She's even smaller than you think. Local luminaries and media stars mobbed her, trying to touch her hand and snap a picture (yes I did, too). The event was a Christiane Amanpour interview taping, in which Ms. Yousafzai recounted the day some Taliban "boys," as she called them, shot her in the head for blogging about girls' education.
After recovering from a coma, her commitment to the cause of school for girls increased. She also talked about other depredations visited on girls her age, including the marrying off of her teen friends to older men. She even suggested there should be a legal age restriction for girls in marriage, as there is for alcohol, drugs and voting.
When the Nobel Committee chose chemical weapons inspectors over this tiny hero for their big prize, I was disappointed. It is too easy to picture a room full of white Scandinavian men missing the point that this girl, with her half-paralyzed visage and indomitable spirit, represents millions of girls not just denied education but beaten, treated like chattel and forced to submit to endless violation by Uncle Festers, impregnated repeatedly until their spirits die.
But Ms. Yousafzai is young, and maybe the Nobel would have peaked her too soon. No one who watches her for five minutes can doubt that she is destined for great work, unless they kill her first.
While fans mobbed Ms. Yousafzai, I retreated to the sidelines and met a middle-aged Afghan woman in an embroidered scarf, wiping tears from her eyes. Razia Jan is the founder of a girls' school outside Kabul. She said she was moved by the outpouring for Ms. Yousafzai but was thinking about the girls who will never be famous. "Like her, there are thousands of girls, and things are being done to them, horrible abuse," she said.
Ms. Jan founded the Zabuli Education Center in 2008. The day before she opened her doors, three men in white robes visited. One stuck his finger in her face and said, "You have three hours to turn this into a boys' school. Men are the backbone of Afghanistan."
Ms. Jan said she replied, "Women are the eyesight of Afghanistan, and you are blind."
The men retreated, and she opened for business. Four years later, she has 400 pupils, but the school's water must be tested daily for poison, and the building must be vigilantly guarded against bombs and poison gas.
Ms. Jan runs the school on a year-round schedule, because the greatest threat to girls' education (after the depredations of the Taliban) comes from the girls' own male relatives at home. As soon as the men see signs of incipient womanhood, they trade, sell or barter them off.
Education empowers the girls to resist, Ms. Jan said, but at great cost. One 23-year-old student's father wanted to take a younger wife for himself and decided to trade his daughter off to that girl's father. His daughter objected. Over six months, according to Ms. Jan, male relatives broke her nose, broke her ribs and poured boiling water on her, but she refused to acquiesce, and finally her father backed down.
Another student, a 13-year-old girl, was left in charge of eight younger siblings when her father died. The girl's uncle offered to take them all in but only if she married his son. She refused and tried to kill herself with rat poison. Ms. Jan interceded, and the uncle agreed to wait until the girl finished 12th grade.
"She said, 'If I can just finish 12th grade, I can take care of my siblings,'" Ms. Jan said.
***
EVEN WITH THE Americans still in Afghanistan, the things happening every day to girls and young women under the Taliban defy belief. A few weeks ago, Ms. Jan narrowly missed a bomb detonated at a major shopping center in Kabul. She said she never watches television to avoid bad news, but, when she got home, she turned it on to confirm that a friend and her children had died in the blast. Immediately after that report, the broadcast turned to a stoning in a town under Taliban control.
A girl, of age, had refused to marry an older man and married her younger lover instead. As Ms. Jan and the rest of Afghanistan watched, men in white robes stood outside a mosque, a figure draped in white was dragged to the middle of the square, and the men threw stones.
"These were not pebbles," Ms. Jan said, wiping tears. "They were bricks. And the men were laughing."
At the end of next year, American troops will finally leave Afghanistan. The prospect of a resurgent Taliban is real. American diplomats have engaged in nearly three years of secret meetings and diplomatic back channels to lay the groundwork for talks to begin. In June, the U.S. came close to openly negotiating after the Taliban opened a public office in Qatar. Those talks never got off the ground after the Taliban decorated its new office with the flag, anthem and symbols of the Islamic Emirate of Afghanistan, and Afghan President Hamid Karzai pulled the plug.
The challenge of negotiating with this particular devil is immense. Marc Grossman, the former U.S. special envoy for Afghanistan and Pakistan, writing in Yale Global recently described "highly classified" talks in which he participated and which ultimately failed. "Secretary Clinton made clear that … Washington would support reconciliation with only those insurgents who met three important end conditions: Break with al Qaeda, end violence and live inside an Afghan Constitution that guarantees the rights of all individuals, especially women."
Obviously, such enlightened conditions will never be met by warriors fantasizing about a medieval transnational caliphate, for whom national borders mean nothing and for whom girls of child-bearing age must be kept illiterate, the better to force them to submit to their sole biological purpose as male-producing cows.
Before the Qatar gambit collapsed, Afghanistan's education minister, Farooq Wardak, said the Taliban was backing off its ban on female education. But Ms. Jan sees no evidence of that on the ground. "I know these people will never do what they say," she said. "If there is any chance for the women, for girls to get educated, you have to think 10 times before you negotiate with these murderers. They put acid on girls, cut their throats, cut their noses for just going to school."
With all due respect to the admirable efforts of Mr. Grossman, Hillary Rodham Clinton, John Kerry and Barack Obama, it is not our duty to negotiate with the Taliban. Not our drones nor our diplomats nor our money will change their minds.
The parties who should be dealing with the Taliban are their friends in the oil-soaked Gulf states who have done the most to promote a despicable ideology for a generation. The Taliban's Wahhabism was born in Saudi Arabia in the 19th century.
Their strain of Islam contradicts major tenets of the traditional faith and offends many believers. But the Saudis have been successfully exporting it, financed by whopping oil profits, since the early 1970s. According to its own figures, the kingdom spent more than $80 billion between 1973 and 2002 creating a worldwide network of Wahhabi mosques, Islamic centers, madrassas and charities. This network became a framework of jihadi extremism that, among other things, is the primary force against women's rights on this planet. The Afghan Taliban is among the recipients of that money.
One way to help Ms. Yousafzai and the girls she represents is for other Muslims to break their silence and begin loudly objecting to the barbarism from the mosques and minarets of the Middle East and Turkey to Indonesia, Europe and America. When moderate Muslims and their religious leaders, in numbers large enough to be heard, step out and call for an end to the atrocities carried out against females in the name of their religion, girls may eventually stand a chance against the Taliban.
Meanwhile, as our soldiers prepare to come home and our negotiators get no foothold, these girls are on their own, their fates left to God and the men who claim to speak for Him.