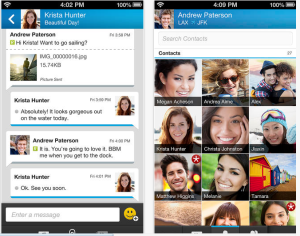 Starting today, BlackBerry is going to make it easier to talk your friends from 2007. The rotting company said that its once-popular messaging app BBM is will finally be released for free in Apple and Google's stores. It's already out for iTunes with the Google Play version expected to be out soon.
In a release that blatantly starts off lying ("This is the news you've been waiting for!"), BlackBerry promises that those who pre-registered at its website will receive it first. As for those who didn't, the company is implementing a sign up system to deal with the "unprecedented pent up demand." Sounds about as thrilling as waiting in line for the grand opening of a new J.C. Penney.
A peek at some screenshots looks like it includes updates from 2013 at least, such as cheap-looking emojis, group chats and the ability to include status updates. Although we're curious to see how it feels like to live in a world where people still say "BBM me" like this Andrew Patterson person does.
Today's launch comes a month after BlackBerry announced it was actually going to release the app. It sort of did that, but immediately pulled it after an Android version was filled with problems. Since then, there have been several spammy knock offs that have infiltrated both Apple and Google's stores.
If you see our face on the Grindr-like layout, please no Britney spoilers. We're still rooting for her!