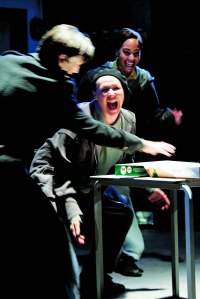 "Great Caesar's ghost! How did they ever get in?" is one sexist shock wave you'll not be feeling at Julius Caesar, which hopped from the Donmar Warehouse in London to St. Ann's Warehouse in Brooklyn where it will play till Nov. 9. It is manned by a cast of 14 females led by Harriet Walter, who prefers the democratic Ms. over her Crown-appointed title.
Very few people in this country know Dame Harriet, and it's our loss. Broadway has seen only the tip of the iceberg—a month's run as Helena in a Royal Shakespearean Company All's Well that Ends Well in 1983 and a four-month run as Elizabeth I in Friedrich Schiller's Mary Stuart in 2009. She brought such majestic might to the latter that both she and title-player Janet McTeer continued their regal head-butting as Best Actress Tony nominees. Forty years of classical theater in England went into that portrayal; some of it has been parceled out in TV series (Lady Shackleton in Downton Abbey, Harriet Vane in the Dorothy L. Sayers mysteries) and feature films (Sense and Sensibility, Atonement).
But none of the above can prepare you for the brilliance of her Brutus, so full of muscular swagger-and-dash, cerebral depth and anguished humanity. "I really didn't know too much about the part of Brutus," she admitted. "Maybe I was influenced by the word brute being in the name, but I thought he was going to be a sort of square-shouldered immovable object. He proves to be very different from that."
The conceit of this production is that it takes place in a maximum-security women's prison where Shakespeare's saga of autonomy and the struggle for freedom is acted out by the inmates. When the rough-housing gets too real or the acting gets too small, time is called by a loud buzzer, the offending actor is yanked out of the game and hauled off to solitary confinement, and his understudy rushes in, script in hand, to continue the scene.
"St. Ann's has given us some great opportunities to explore the epic dimension and the theatricality of the play," said Phyllida Lloyd, who dreamed up and directed this Julius Caesar. "It was intense and intimate in London, and it's sort of explosive and theatrical in Brooklyn."
The prison setting came out of themes in the play. "Any historian knows Caesar's conspirators believed themselves to be imprisoned by him. He had deprived them of their freedom of speech and movement, and they literally felt imprisoned. Beyond that, it was a way of immediately de-sexing the women, because, actually, they were neither men nor women. They were humans. That seemed a useful starting point. It wasn't about 'How are we going to conceptualize it?' or 'Are we going to set this in Hollywood or in a corporate boardroom?' It was about 'How do we free the audience and keep them from thinking about gender change.' I didn't want it to be conceptually laden. I wanted to stop you from thinking of girls and boys and just think of the character."
This approach freed the actresses to play the opposite sex. "I don't find it any harder, really, to try and imagine myself into the shoes of a man who has to lead an army than I do to get into the shoes of Queen Elizabeth I or Cleopatra," said Ms. Walter.
The spark that inspired the all-female Julius Caesar was itself a feminist first—the gaining of the keys of one of the big, important London theaters by a pair of women. When Josie Rourke and Kate Pakenham took over the Donmar Warehouse in 2012—Ms. Rourke as artistic director, Ms. Pakenham as executive director—they invited Ms. Lloyd to create an appropriate entertainment for their inaugural season.
"'What do you think it will be?' they asked, and I said, 'It'll be something that makes the women in the audience feel included,'" recalled Ms. Lloyd. "Then, I thought, To hell with that! You've got to go much further than that."
She cast it carefully but quickly. "There was a potential that we would be shot down in flames for daring to trash on this sacred territory, so I set out not to find a global village or anything like that but just to find the best speakers I could find in the U.K.—the people who made me sit up and hear. I wanted this production to have the explosive nature the play had when it was first performed in England at the end of Elizabeth I's reign when everyone was on the edge of their seats, thinking, My God! This is so dangerous, because it's a play about revolution and the potential assassination of Elizabeth. And you just don't know what's going to happen next."
Ms. Walter was quick to credit Ms. Lloyd for the unbroken line of earnest performances. "A lot of it is done through the director—that resolve, the attitude of sharing every minute and sharing every insight, all of us being a part of creating the world of the prison. We had a nice, long period for rehearsals. Even the smallest voice was listened to, and the least experienced person was respected. That should be taken as normal, but it isn't always. It was very hard work, very grueling—like 10 till 6 six days a week for six weeks. Because we're all on stage all the time, every single part of the play is relevant to every actor.
"It really is thrilling to act, mainly because it's so energetic. Using every inch of you like this is terrific. Girls are used to sitting in the dressing room, waiting for their moment to go on, then being on stage all evening, and, in Shakespeare, we're particularly powerless. We usually sit there in a corset, feeling decorative at best. "
The notion of transplanting Julius Caesar to a prison setting was evidently out there in the creative cosmos, because it wasn't just picked up by Ms. Lloyd. It also occurred to the Taviani brothers, Paolo and Vittorio, who filmed a raw, near-documentary version of it in a high-security wing at Rebibbia Prison in a suburb of Rome, with a cast comprised of authentic murderers and drug dealers.
The result, Caesar Must Die, reached London just as Ms. Lloyd was concluding her rehearsal period, so she screened it for her cast as a kind of cautionary training film.
"What got us in the guts was the fact that those actors in it may well have been the descendants of Cassius and Brutus," the director pointed out. "That's what was so strange. You're looking at them, thinking, My God! These guys really are Romans—Romans in a way we could never be. It was all very moving and amazing."
Ms. Walter hasn't had a chance to catch the other single-sex Shakespeare in New York—Mark Rylance and the all-male edition of Twelfth Night and Richard III. "We were playing the same schedule," she said. "But before I go back, I hope to. I'm very curious to see Twelfth Night particularly—not so much Richard III, I have to say, because I'd feel most like reading for the men's roles, and I just can't think of a justification for that. I'm sure they're brilliant, but, given there are very few parts nowadays for older women, I see very little justification for men playing those roles."
As for her own production, she is happy that audiences have embraced it. "They could have been critical and mocking, but, for the most part, people have really accepted it, and that is not only gratifying personally, it seems like a great step forward for the future of theater and plays and the understanding of women. I'm making it a little bit larger than it is, but it is, in a small way, a great step forward."