While New York hums in the thrall of British provocateur Banksy's month-long self-authorized public arts festival, a show at the New-York Historical Society reminds us we have long linked new art with scandal. "The Armory Show at 100: Modern Art and Revolution" reunites 100 paintings, sculptures and prints from the seminal and shocking 1913 exhibition and offers them up for reappraisal.
You know about the Armory Show from "Art History 101." During the few months it was on view in New York's Lexington Avenue Armory building, hardly a day went by without a new newspaper article about the show's affront to traditional aesthetics. The New York Times called Duchamp's Cubist painting Nude Descending a Staircase "an explosion in a shingle factory"; a 1913 cartoon in The Evening Sun dubbed the painting's awkward figure The Rude Descending a Staircase (Rush Hour at the Subway).
This abbreviated recreation of the show, by curators Marilyn S. Kushner and Kimberly Orcutt, along with consultant and Columbia historian Casey Nelson Blake, fits neatly in the space of three or four large, salon-hung rooms. (The original show was curated by artists Walt Kuhn, Walter Pach and Arthur B. Davies, and there was a larger New York restaging than this latest iteration in 1963, on the exhibition's 50th anniversary.) A wall of fascinating prints by Henri de Toulouse-Lautrec, Edvard Munch, Odilon Redon, Maurice Denis and others is a particular pleasure to see, as these imaginative small works are not often reproduced in the context of the Armory Show. The exhibition has some standout American painting like John Sloan's Sunday, Women Drying Their Hair and a competent, if somewhat Matisse-y looking, still life by Marsden Hartley and terrific, Seurat-inspired circus paintings by George Bellows. There is a memorable still life of hyacinths and African violets by Joseph Stella that looks as though it was painted in sugary pink frosting. If the Americans look substantially less aesthetically adventurous than the Europeans, none of the works on display look radical or scandalous anymore. Even Duchamp's Nude was made into a stamp by the U.S. Postal Service in 1998.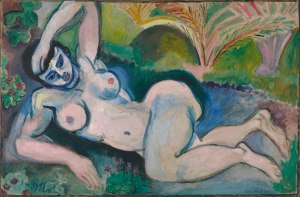 The bigger surprise is the work not on display. This display represents just a tenth of the art in the original Armory Show, which had more than a thousand pieces. From historical works like Francisco Goya's miniature A Monk With Witch to 11 of 13 paintings by Puvis de Chavannes to any of the show's four Claude Monets or either of its two Fernand Légers—all missing here—this display is a mere wisp of the show's original splendor and breadth.
What, then, is the purpose of "The Armory Show at 100" if it is nowhere near a historical reenactment? Earlier this year, in an 18th-century palazzo in Venice, Italy, the Prada Foundation precisely recreated "When Attitudes Become Form," a 1969 exhibition curated by Harald Szeemann in Bern, Switzerland. The floor plan of the Kunstmuseum Bern was superimposed on the palazzo, and archival photographs were used to place artworks. The result was, by all accounts, an extraordinary and imaginative assertion of the importance of an influential exhibition to the current moment.
This is where "The Armory Show at 100: Modern Art and Revolution" falls flat. It is not to be faulted for an inability to secure a complete set of loans for more than 1,000 objects. But it doesn't quite deliver on the task of framing the extant curatorial selection in any particular way. Where the Prada Foundation's "Attitudes" catalog had contributions from relevant voices on contemporary curating, like Claire Bishop and Christian Rattemeyer, "The Armory Show at 100: Modern Art and Revolution" comes with a catalog full of exhaustively researched essays by 31 scholars but lacking new perspectives. Contemporary artists or curators are conspicuously absent, while tedious archival research seems to have ground every bit of the show's paper trail to antiquarian dust.
A slightly more imaginative approach to curatorial and scholarly methodology might have produced a more relevant, rather than merely reverent, exploration of an important historical show. The Historical Society is to be commended for taking on an ambitious exhibition. Yet given how scarce meaningful conversations are between pre- and post-World War II art practices, this show feels like another missed connection between the historical past and the present. (Through Feb. 23, 2014)