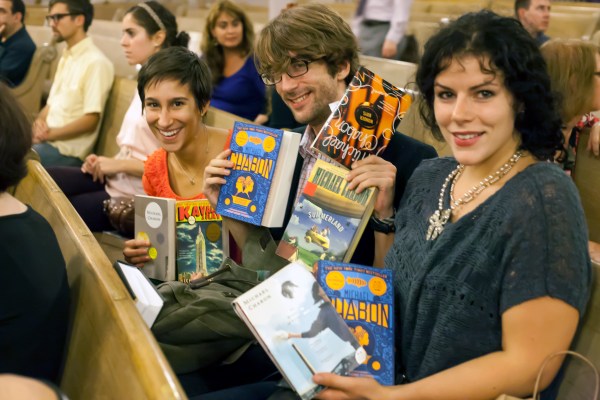 Last night, the famously reclusive novelist Donna Tartt made her first and only Brooklyn appearance to support her new book, The Goldfinch, at Congregation Beth Elohim in Park Slope.
The fact that Ms. Tartt elected a 150-year-old Reform synagogue as the venue at which to promote her latest novel is no accident. Beth Elohim is an unusually bookish congregation, with members including Jonathan Safran Foer, Nicole Krauss, Jodi Kantor, Ron Lieber and Jonathan Mahler.
About a year ago, the synagogue launched Brooklyn by the Book—in conjunction with Park Slope's Community Bookstore—featuring luminaries including Paul Auster, Don DeLillo (another famously reclusive writer), Michael Chabon and Diane Ravitch, whose talk attracted about 800 people to Beth Elohim's sanctuary.
The series, which kicked off with an Amy Sohn reading, was a way to rebrand the shul as a cultural hub that serves not only its congregants but the neighborhood at large.
"The synagogue should reflect the people that live around it, and it's clearly a literary population," said Andy Bachman, head rabbi at Beth Elohim. "My God, you spend enough time in Park Slope, you'll trip over 17 writers walking down the street."
Owing to the reading series, many have likened Beth Elohim to the 92nd Street Y—at which Ms. Tartt made her only other appearance in New York on Monday night. The synagogue just booked Malcolm Gladwell for a talk in December, and the Brooklyn Public Library is now a co-curator of the series.
"Part of the reason it's been successful is that, surprisingly, even though Brooklyn is something of a literary paradise, there aren't that many places to go to hear authors in Brooklyn," said Ms. Kantor, the New York Times correspondent and author of The Obamas.
There is the Greenlight Bookstore, in Fort Greene, which collaborates with the Brooklyn Academy of Music for its Eat Drink and Be Literary series and has featured Martin Amis, Colson Whitehead and Jamaica Kincaid. Dumbo's PowerHouse Arena, which has hosted Al Gore and William T. Vollman, is another estimable venue.
And if secular programs like Brooklyn by the Book—as opposed to Sabbath services—can fill the entire lower floor of Beth Elohim's sanctuary on a Tuesday night, Mr. Bachman is not complaining.
Earlier this year, the author and Times health columnist Jane Brody came out to the synagogue to hear Andrew Solomon talk about his latest book, Far From the Tree. It was around the time of the Sandy Hook Elementary School shooting, and Ms. Brody was planning to return to Beth Elohim the next evening to participate in its gun violence prevention committee. As an atheist, she had some compunction about getting so attached to any synagogue, and she expressed her dismay, in mock anger, to Mr. Bachman.
"It's a funny story, but it typifies the fact that it's not a religious community, but it is a community that really values involvement," Mr. Bachman said.
Ms. Brody echoed that sentiment. "Synagogues," she explained via email, "can do a lot more for their communities than foster religion."