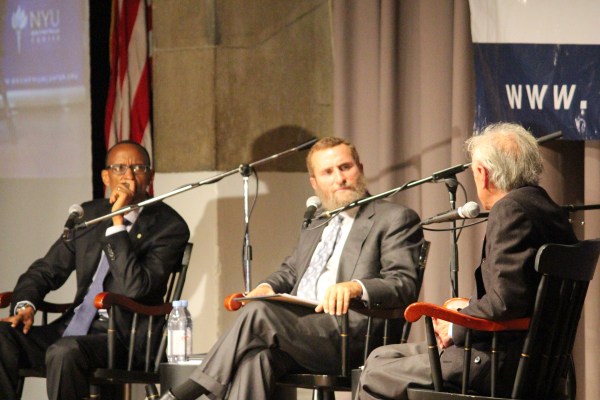 The recent Pew Research poll released on the state of American Jewry is catastrophic. With a 58 percent intermarriage rate (including a much higher 71 percent for the non-Orthodox), two-thirds of Jews having no synagogue affiliation, a quarter believing there is no God, and a third lighting a Christmas tree, American Jewry has basically reached the last-one-out-turn-off-the-lights phase. Tens of billions of dollars have been poured into Jewish outreach to bring in the non-affiliated ever since the Lubavitcher Rebbe, Rabbi Menacham Schneerson of Brooklyn, started the effort in 1967, which was copied by every Jewish movement. Would the money have been better spent by lighting it on fire to heat a single synagogue for a week? How can we all have failed so thoroughly?
There is one essential way in which everything went wrong. What the poll shows is that Jews are remarkably assimilated. They do not live among Jewish friends or in Jewish communities. Seventy percent can't be induced to join a synagogue even with hot, steamy cholent and fine single malt whisky. And yet the Jewish communal model remains hopelessly outdated in still trying to bring Jews back to the Jewish community instead of obliterating the borders of the Jewish community. In other words, the only way to reengage lost Jews is to reach them where they are at—namely, in the mainstream culture and in mainstream society. On TV. On the internet. On radio. Through publishing, and every other means of mass communication.
Just look at the evangelical model, which has been astonishingly successful. (One astonishing result of the Pew survey: 82% of white evangelical Protestants believe God gave the land of Israel to the Jewish people, compared with 40% of American Jews.) Pastors like Joel Osteen and Rick Warren don't have mega-churches only in cities. They have ministries across the US, and on TV. So why isn't there a single Rabbi with a TV show spreading a Jewish message? Because Jews are convinced that there is nothing universal about Judaism. They remain stubbornly parochial, which is why they created insular Jewish ghettos in the first place.
Now, that might work here in Jew York, where you have more than two million Jews and perhaps a few other cities with enough mass to sustain the bubble. But can it really work in the seedbeds of assimilation, like the American University campus?
A student at university who hangs out with his non-Jewish friends is encouraged to stop going only to mainstream university events and come instead to Hillel or Chabad. I'm not knocking that. We of course need Jewish organizations that invite Jews in to classes, religious services, lectures, social events and debates. But far more effective is not forcing the choice on them in the first place. Bring Judaism instead to where they are.
When I arrived as Rabbi at Oxford University in 1988, I quickly decided that the Hillel model on a campus with only 700 or so Jewish students was bound to fail. The alternative? Make Oxford itself Jewish. Create an organization of thousands of Jewish and non-Jewish students that debated, discussed, and presented Jewish themes, values, and ideas. Excite the non-Jewish students about Judaism and you will excite their non-Jewish friends in turn. This model worked brilliantly with leaders like Newark Mayor Cory Booker, who became our President in 1993 and till today lectures to Jewish audiences around the world about his love for Judaism.
Last week our organization, This World: The Values Network, staged a huge event in collaboration with Rabbi Yehuda Sarna of Hillel at NYU. More than 1000 Jewish and non-Jewish students watched me moderating a discussion on genocide between Elie Wiesel and Paul Kagame, the President of Rwanda. It was glorious to look out at a sea of young faces – Jewish students in yarmulkes, black students who had come to learn more about Rwanda, and plain old NYU students who want to engage in their surroundings – listening to the foremost speaker on remembrance of the Holocaust, as well as the two greatest Jewish philanthropists of our time, Sheldon Adelson and Michael Steinhardt. They came to hear about the most pivotal of all Jewish values, namely, the infinite preciousness of every human life.
In a similar manner, bring Judaism to the culture via TV shows, theater, and music that are mainstream and intended for all audiences. Some examples include the new Shlomo Carlebach-based musical 'Soul Doctor,' produced by Jeremy Chess, that is currently running on Broadway; the music of Matisyahu; and even the TV show I hosted on TLC called 'Shalom in the Home.' Like the Kabbalah movement, bring Judaism and Jewish values to everybody instead of focusing only on the Jews. We are not a proselytizing faith. But that is no excuse not to make the Jewish people a light to all nations.
Rabbi Shmuley Boteach became the first non-Christian to win the London Times 'Preacher of the Year' competition, and served as host of 'The Shmuley Show' on the 'Oprah and Friends' Radio Network. The international best-selling author of 29 books, he will shortly publish Kosher Lust.