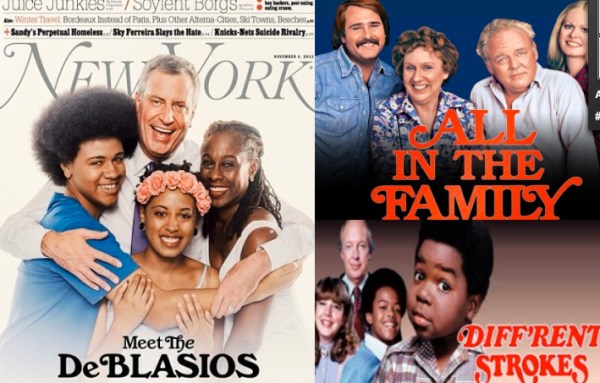 This week's New York cover is eye-catching, certainly: a cover story on mayoral candidate Bill de Blasio and his multiracial family, of whom the media can't seem to get enough. (Dante's hair! Chiara's flowers and/or college! Chirlane McCray's lesbian past!)
But there's more to it than immediately meets the eye.
The story, by Chris Smith, is amplified by the cover: a subversive multi-layered commentary about both the family as well as the criticism the candidate sometimes receives for allegedly exploiting his kin for votes. It's a picture that tells not just the story of a happy family but, in its invocation of the font from Different Strokes and All in the Family, a fictional one.
According to New York's design director, Thomas Alberty, the fonts used in the title were "Bookman (MEET THE) and Windsor Bold (DEBLASIOS)." Windsor in particular is telling as a pop culture allusion: It's not only the typeset for All in the Family, but remarkably close to Cooper Black, the calligraphy for Different Strokes. (The two sets are so similar that The Price is Right would occasionaly switch out one for the other during 90s specials.)
Though the choice of which letters to stylize against typeset with curly-cues may be different–B's and H's on" de Blasio," while Different Strokes used finesse with its D's and S's–the fact that they both used this particular kind of flourish with this particular kind of font immediatley draws the eye into comparison.
When asked if this was a direct TV reference to Different Strokes or All in the Family, Mr. Alberty replied:
Yes, we were nostalgic, referencing family in Americana pop culture, Norman Rockwell/Saturday Evening Post and 70s sitcom title cards like All in the Family.
All in the Family? Archie Bunker seems like a weird comparison to make.
[youtube=http://www.youtube.com/watch?v=iQfASpUYKSU&w=420&h=315]
Different Strokes, however, seems closer to home. This was also a show about a multiracial family: one that lived happily on TV but behind the scenes was plagued by drug abuse, long-held grudges and a pretend-child, which could be a morbid analogy to draw. On the other hand, Mr. de Blasio has spent his entire campaign embracing and coopting what, on the surface, appear to be digs at the racial makeup of his family. (See also: Cheerios.)
But this sort of sly wink-and-nod at the cultural conversation was not how the public advocate began his campaign. It's evolved from an earnest invocation of Dante for an ad about stop-and-frisk back in August (so game-changing its now just referred to as "the ad").
[youtube=http://www.youtube.com/watch?v=GgvXniTz7D8&w=560&h=315]
The ad resonated. It led to President Barack Obama to contrast his former afro to Mr. de Blasio's 16-year-old son, and led Mayor Bloomberg to object that the campaign was "
racist
."
Compare that first ad with the commercials airing as we reach the end of the race: the latter have more of tongue-in-cheek feel, with Chiara explicitly acknowledging the "attention" her and her brother's participation recieves…while she and Dante are participating in yet another ad.
[youtube=http://www.youtube.com/watch?v=Go9NpNm63CU&w=420&h=315]
Now would this kind of meta-campaigning work in South Carolina? Probably not. But at least you can say this about New Yorkers: Our voters are sophisticated enough to understand you can be ironic without being insincere.