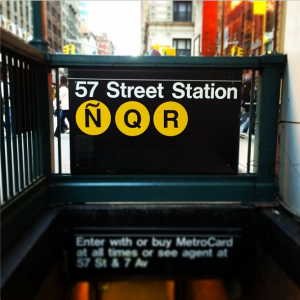 Forget the joke that is the R train, the latest subway prank has transformed the N train into the Ñ train.
The signs were changed at various stations all over town – including N/Q/R stations at 8th Street, Union Square, and 57th Street.
While no one's claimed responsibility for the prank yet, BuzzFeed suggests it may be connected to the Línea Ñ movement, which campaigned for the change in honor of Hispanic Heritage Month (September 15 – October 15).
Whoever's to blame, be prepared to answer even more questions from confused tourists.
UPDATE: We may have uncovered the clever culprit, folks. A Tumblr account called zstreetart, which claims to be embarking on "a six-month street art collaboration," posted photos of the Ñ train graffiti under the heading "Day 1. Ñ-line."
"Signs for the N-line of the NYC Subway, from Queens to Coney Island, were altered this morning," the page says, "The N-line is now the Ñ-line for the 24.28% Spanish speakers in New York City."