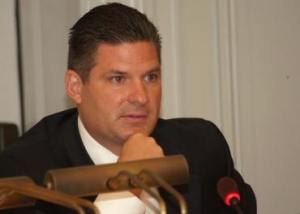 An emerging legislative leadership tandem suggests another north/south pairing in a classic déjà vu all over again General Assembly plot line, altered slightly because of the era but similar because of the organizations involved.
Seated at that clubhouse mash-up of party bosses on Friday and looking into the eyes of Assemblyman Vincent Prieto (D-32) of Northern Hudson County was the sitting majority leader, Assemblyman Lou Greenwald (D-6) of South Jersey, who will again be ML in the Prieto era if the deal holds.
Twelve years ago, the little-known Assemblyman Albio Sires from northern Hudson County suddenly found himself on the throne of power, elevated in a North-South balancing act that included Assembly Majority Leader Joe Roberts (D-5) of Camden.
The 2001-2013 comparisons are unavoidable, but incomplete.
After nearly eight years of Essex/South Jersey power sharing, the move to oust Speaker Sheila Oliver (D-34) of East Orange and replace her with Prieto, while holding onto Greenwald, signifies a Democratic Party return to the Hudson/South Jersey model.
South Jersey's 30% is stronger than a divided North Jersey, and Hudson unified beats Essex divided.
The Secaucus-based Prieto very obviously follows Sires on the ethnic front. Both are Cuban immigrants turned proud American citizens.
Both Prieto and Greenwald have strong organizational ties to their respective regions. Prieto's loyal to state Sen. Nick Sacco (D-32) of North Bergen, the most powerful man in Hudson County, just as Sires, tired of fighting the machine as a Republican and independent, finally folded into the Bob Menendez family. Greenwald and Roberts both had loyalty to South Jersey Democratic boss George Norcross III.
There are also some key differences between the newer versions and their forbearers.
Over the years, Greenwald has weathered an ongoing echo chamber of Gordon Gekkoisms with a certain disdainful panache, built in part on the confidence he's earned as chair of the budget committee and as a forward line player in South Jersey power politics.
While the "future governor" whispers are always attendant, a source close to the Democratic caucus said the majority leader position has given Greenwald a chance to mature over the past two years and subdue the young-man-in-a-hurry vibe.
But he's still a different brand than Roberts.
Never a showman, the tavern owner turned lawmaker was known as a world-class consensus builder.
Those who were there at the time say the Highlands Act would not have happened without Roberts securing a bipartisan coalition of Republicans and Democrats. The parliamentarian with a humble, working guy demeanor seemed to naturally put people at ease and had a reputation for persuasion. When Norcross didn't like then-Gov. James McGreevey's millionaire's tax, Roberts told the boss why he thought it was a good idea, and got it done.
Greenwald has also staked his claim as a champion of the millionaire's tax, but has visibly struggled to find his footing as a cross-the-aisle negotiator with Republican Gov. Chris Christie, who landed on the scene after Roberts' departure.
For his part, handpicked by McGreevey as a power nod to Menendez as part of a leadership deal with South Jersey, Sires literally appeared off the heels of his first term in the Assembly to become speaker.
Few people knew him. He stood out in the chamber because he was tall.
By contrast, everyone in the Democratic caucus knows Prieto by now.
A veteran member of the Assembly who's served there since 2004, he is the sitting budget chairman with a reputation for knowing how to run a meeting. "He's a trains on time kind of guy," a source told PolitickerNJ.com.
He's also a solid fundraiser and has a reputation in the caucus for being an amiable presence. However, "Don't let that fool you," one source clarified. "There's a Cuban side, too."
But in the Christie era, the deal to promote the steady if unspectacular Prieto – the second Latino in history to occupy the speaker's chair – and leave Greenwald in the number two spot bears all the markings of a very gentle realignment of power, with Essex County Democrats, more than the Republican governor, suffering the sting of a new iteration of an old era.
No doubt, insiders will also be observing Prieto and Greenwald to see if their careers continue to follow the upwardly mobile paths of their predecessors, which would mean the latter eventually becoming speaker, and Prieto once again succeeding Sires in the U.S. Congress.