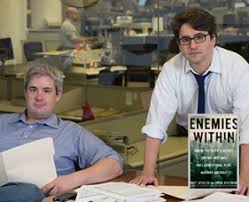 Pulitzer Prize-winning investigative reporter Adam Goldman is leaving the The Associated Press for The Washington Post, where he will to cover terrorism on the paper's national security team, reports The Huffington Post.
"He has been a gritty, aggressive and driven reporter, making us all proud," AP Washington bureau chief Sally Buzbee wrote in a newsroom memo.
In his 11 years at the wire service, Mr. Goldman attracted attention for, together with Matt Apuzzo, uncovering the NYPD's surveillance of Muslims that were part of the counterterrorism program in the wake of the 9/11 attacks.
Mr. Goldman and Mr. Apuzzo, who were dubbed the "new Woodward and Bernstein" by The Guardian's Spencer Ackerman, won a slew of awards (including a Pulitzer for Investigative Reporting) and coauthored Enemies Within, a book about the counterterrorism program that came out this fall.
"Adam is one of the best reporters in the country," Mr. Apuzzo told HuffPost via email. "There's no story he can't cover, no secret he can't uncover. And he's a great friend. I'm really going to miss him."