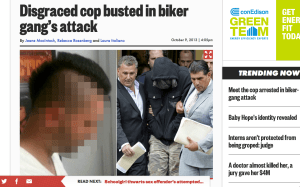 The New York Post nobly declined to publish identifying photos of the NYPD detective whose bike gang recently terrorized a family driving on the West Side Highway—but they still made it really easy to find him, if you were—you know—interested.
"The Post has clear photos of [Wojciech] Braszczok's face, but has chosen not to publish them, lest that endanger the lives of the undercover heroes he works with," reported the Post.
The article also added that Manhattan Criminal Court Judge Tamiko Amaker "barred news photographers from snapping the cop in court, buying his lawyer's argument that exposing his face 'would jeopardize his life and his family.'"
And though most photos have since been removed from Mr. Braszczok's various social media profiles, the Post's article proceeded to direct readers, in great detail, to the detective's various online presences.
"[Mr. Braszczok] was so careless that he used close variations of the same screen name—'evovillen'—for both real-life and undercover communications…using it on Twitter, Instagram, motorcycle forums and dating sites…" the Post wrote, later reporting Mr. Braszczok's exact Twitter handle: @evovillen.
There's even a thorough description of a photo of the disgraced detective's home.
"[Mr. Braszczok] was also careless enough to post a photo of his souped-up Silver Mitsubishi sitting smack outside his Long Island City, Queens condo," the paper continued.
Need a more detailed road map? Just check the bail papers for directions.
"His wife, Eve, used that pad as collateral to post his bond and spring him from jail following his arraignment Wednesday," the article said.
Maybe it's just us, but these protective efforts seem half-hearted at best.