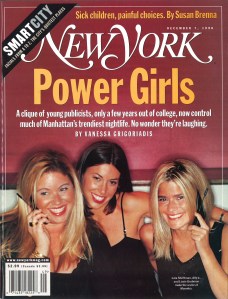 Remember the Power Girls? Back in 1998, New York magazine profiled five on-fire PR women who had the world—or at least New York—at their Prada-clad feet. Writer Vanessa Grigoriadis's piece "Welcome to the Dollhouse" marked the rise of the modern PR girl archetype: "pretty, perky and remarkably plugged-in." Fifteen years later, where are the women who fueled Moomba's 15 minutes?

Lizzie Grubman
1998: Madonna told New York she liked Ms. Grubman's attitude. "She's had balls ever since she was a little kid." Her impressive client roster featured Britney Spears, Jay Z, Sony Music and the (now defunct) elite hang, Moomba.
2013: Her coronation as the "reigning queen of New York nightlife" was overshadowed by a 2001 encounter between her SUV and 16 Hamptons nightclub patrons. She parlayed her short jail stint into a mentor role on MTV's 2005 reality show PoweR Girls. Still runs Lizzie Grubman PR. Started her own management company in 2009. Currently represents Maksim and Valentin Chmerkovskiy of Dancing with the Stars, singer Lil' Kim, model-turned-author Kylie Bisutti.
Quoteworthy: Ms. Grubman gave The Observer some advice on facing a crisis: "This too shall pass. The press is ever-changing—there will be a new headline overshadowing your crisis in no time."
Jennifer Posner
1998: Ran PB & J Public Relations with Ally Bernstein until 1999. Clients included The Wu-Tang Clan, Tommy Hilfiger. New York claimed she said PB&J's hip-hop clients "needed two bigmouthed Jewish girls to tell it to [them] straight." Ms. Posner said she was misquoted.
2013: Moved to L.A. after 9/11. Toiled for People's Revolution before co-founding 24-hour upscale dog care center and becoming marketing director for a children's charity. "I was dealing with individuals and their egos, and I finally hit a complete wall," Ms. Posner told The Observer. Longing for "more depth," she became a yoga teacher and taught kids in orphanages around the world from 2009-2011. Now lives in Peru with her husband.
Quoteworthy: Ms. Posner told us the New York profile convinced her to close her business: "It was a gross over-exaggeration of our work life…I was misquoted, and that led to animosity from people in the music industry."
Ally Bernstein
1998: Founded PB & J Public Relations with Jennifer Posner. Tommy Hilfiger told New York mag she and Ms. Posner were his "conduit to the underground…everybody loves these two."
2013: Ms. Bernstein—or Ally b, if you're digging a '90s vibe—went on to set up another PR firm, The Branding Bee. The agency has offices in NYC, L.A. and Toronto, and its clients include Barneys, Red Bull and YouTube.
Quoteworthy: Did not respond to requests for comment, but tweets frequently on Jared Leto, parties, famous friends.
Shari Misher Stenzler & Lauren London
1998: Co-founders of London Misher Public Relations, Ms. Misher Stenzler also represents charity events and upscale restaurants, including Lot 61. New York cited Bobby Zarem as their mentor. His response? "All these kids know how to do is make dinner reservations and shop at Prada…They're just in it to get laid."
2013: Realizing she had found her niche dealing with spoiled tantrum-throwers, Ms. Misher Stenzler and husband Andy founded tot hangout Kidville in 2005. Kidville now operates franchises as far as Egypt, Hong Kong, India and the United Arab Emirates. Still co-pilots London Misher.
Quoteworthy: "There are always a thousand reasons not to do something, but I always thought how to do it," Ms. Misher Stenzler told Crain's in 2012.
Elizabeth Harrison and Lara Shriftman
1998: Co-founded fashion/lifestyle/entertainment/travel agency Harrison & Shriftman PR. New York mag quoted a then-pregnant Ms. Harrison as saying: "My baby only drinks champagne…She's going to be a party girl." It described her as "the deal-maker, the balance to Shriftman's bouncy id."
2013: The Omnicom Group bought Harrison & Shriftman in 2003. The agency has offices in NYC, L.A. and Miami. It describes itself as—ugh—one of the only "corptique" PR firms in the industry. Clients include Juicy Couture, Jimmy Choo, BlackBerry, Grey Goose.
Quoteworthy: In a 2012 interview with ClaudiaChan.com, Ms. Harrison recalled her company's humble beginnings: "We bootstrapped it from the get-go with 5K in capital and a very inexpensive office on Madison Avenue that we shared with a real estate company…We had very few clients, but we were movers and shakers, and we knew how to hustle and put projects together."