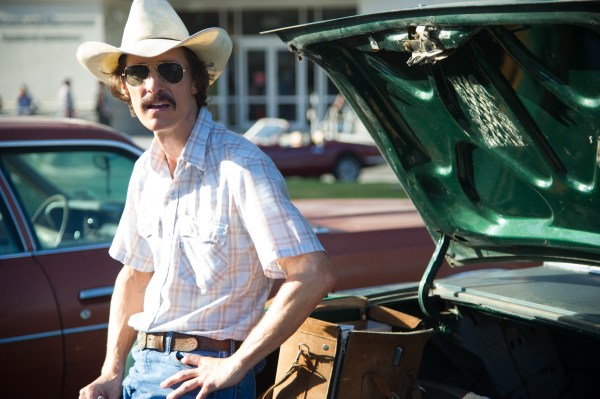 Matthew McConaughey, a mumbling Hollywood-honed Texas actor with a severely limited range whom I have never much liked on the screen, goes the distance at last and wins the crown. In Dallas Buyers Club, the cocky, preening, mewling drawl that whistles through his teeth in every film works in his favor to present a perfect picture of reluctant real-life hero Ron Woodroof, the hateful, brawling, womanizing, homophobic Dallas electrician and redneck rodeo cowboy who turned out to be one of the accidental saviors of gay men during the height of the AIDS crisis in the 1980s. It's a true story, turned with precision and care into one of the most riveting and inspiring films of the year.
In 1985, Ron Woodroof was clueless about AIDS. He was a brawling, drunken, chain-smoking, drug-dealing, foul-mouthed bigot with no concern for the sick and disenfranchised of the world and scarcely little more for his own health. (In fact, the first scene shows him in a cocaine-hazed three-way with two trashy whores in a rodeo holding pen; it gets raunchier from there.) When a minor work accident lands him in the hospital, the doctors discover he has HIV and a near-fatally low blood count of 9 T-cells. He goes viral, reacting with his fists. But when his lady doctor (Jennifer Garner) predicts he has about 90 days to live, he starts reviewing his options. Unwilling to participate in clinical trials aimed at homosexuals and forced to settle for limited doses of the toxic government-approved experimental drug AZT, he bribes a hospital orderly, then crosses the border into Mexico to investigate alternative treatments. First thinking only of his own selfish needs, extending the drug smuggling business to other unfortunates in need of illegal medications looks like a good investment. As his immune system plummets and he develops pneumonia, the only meds that help are not approved by the FDA, so he imports them, disguised as a priest. Pretty soon, to his horror, he finds himself going into business, with a desperate gay community as his clientele and a flamboyant drug-addicted transsexual named Rayon (an amazing Jared Leto) as his business partner, traveling to Amsterdam, Japan and Israel to buy the newest advances in AIDS drugs. Together, this unspeakably mismatched odd couple establishes a Dallas buyers club made up of HIV-infected members who pay a $400 monthly fee for the latest treatments unapproved by the FDA. As a 30-day death sentence stretches into seven years of prolonged life, Ron Woodroof learns what it feels like to be rejected and shunned by his own fellow roughnecks and becomes a leading authority on AIDS with an encyclopedic knowledge of the pandemic, fighting the pharmaceutical companies, the AMA, FDA, CIA and IRS in court for dignity, education and human rights. It's the story of a lout who finds redemption through unexpected motivation, becoming an accidental activist in the process and learning a valuable lesson in humanity about how to help others after it's too late to help himself.
Losing 50 pounds for the role, Mr. McConaughey looks like a cadaver as he more than gives his all for his art. His shocking weight loss is the first thing you'll notice, but he grows on you in sensitivity and stature. Jennifer Garner is fine as the sympathetic doctor who risks her own career to help him. But it is Jared Leto—fearless, funny, openhearted, sympathetic and totally believable as the transsexual who opens Woodroof's eyes to people and lifestyles he cannot begin to understand—who literally steals the picture. What a performance from an actor who grows in stature every time out of the starting gate. Meticulously researched by writers Craig Borten and Melisa Wallack (the actual Ron Woodroof was a consultant, contributing hours of taped interviews before he died in 1992) and directed by Canadian Jean-Marc Vallée (Young Victoria) with a refreshing, no-nonsense lack of sentiment, Dallas Buyers Club represents the best of what independent film on a limited budget can achieve—powerful, enlightening and not to be missed.
DALLAS BUYERS CLUB
Directed by: Jean-Marc Vallée
Written by: Craig Borten and Melisa Wallack
Starring: Matthew McConaughey, Jennifer Garner and Jared Leto
Running time: 117 min.
Rating: 4/4