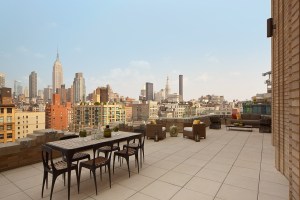 The Observer has had visions—visions opulent and terrifying, and terrifying in their opulence. On Wednesday night, as a chilly drizzle began to fall, we descended on—or rather, ascended in—212 West 18th Street, the one-time home of the New York Telephone Company, which has been lately re-imagined as an art deco sheath for 47 luxury condominiums.
Named for Ralph Walker, its much celebrated architect, Walker Tower will soon open its doors to residents, having sold all but four units—one of which is the would-be downtown record-breaker Penthouse 1, priced at $55 million. (For the budget-conscious, there remains one condo available for $8.25 million.)
In these rarefied environs, the Hearst Design Group staged its seventh annual Designer Visions showcase, where the talents of interior designers Alessandra Branca, Jamie Drake and Carlos Aparicio were exhibited courtesy of in-house trio Elle, House Beautiful and Veranda. For the purpose, Hearst commandeered three as-yet-unoccupied Walker properties, each of which expressed a kind of interpretative freestyle on a given theme.
It was here that we had our visions.
In one corner of Ms. Branca's duplex we have seen, for instance, a snow white peacock—stuffed and dead—whose pink flesh peaked out from beneath downy skull feathers, and whose broad tail reached nearly to the floor from a waist-high perch. Her inspiration for the space, Ms. Branca told Curbed, was a "(nearly) empty-nest couple moving from the Upper East Side." Though, personally, we found it hard to see how that giant bird, or the zebra skin rug stretched over a black-stained hardwood floor, or a framed photograph of Naomi Campbell—nude and smoking and cross-legged in bed—conjured this mythical middle-aged Upper East Side pair. The ensemble seemed to us more Tim Burton meets Wes Anderson than Victoria Hagan meets Woody Allen.
Still, as we moved, grapefruit cocktail in hand, amongst the dandified men and tanned women (were they still golden from summer sun, or had they been augmenting their glow elsewhere?), we heard an attractive young blonde woman exclaim: "This is so like, this is so like… so like my grandparents' house!" So, like, perhaps Ms. Branca was on to something, after all.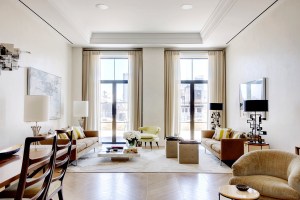 We were not greatly surprised to see the Designer Visions acolytes make early departures—after all, even high-end fashion is fast, and many doubtless held estimable dinner reservations—leaving us to traipse with ease amongst yet-unexplored rooms after an hour's worth of congestion. We were pleased at this juncture by much better access to hors d'oeuvres—also freestyles on various classics—but were dismayed to find that the party's initial crush had lain waste to a spread of cheeses, charcuterie and fruit. (There exists, perhaps, nothing quite like the remnants of a cheese board to disclaim the subtle manners of the privileged classes.)
In Mr. Aparicio's space, an homage to the bachelor pad, we found dark wood furniture set upon blond oak floors, angular desks and low bedframes that managed at once to appear intensely modern and recall the appointments of 1970s ski chalets. Throughout the apartments, cooling night-breezes fluttered the curtains, and massive windows revealed the skyline in all its Gotham glory. Dark walls and wide, white baseboards predominated. Conceived as an apartment for the fictional daughter of Josephine Baker, Mr. Drake's contribution achieved both whimsy and menace (a combination found in the lives of so many famous sons and daughters, though not one we're sure we'd like to consider while eating breakfast cereal). Peach-colored paint adorned hallways and one room sported a bright yellow wooden bedframe. In another, apparently meant for a child, gnarled branches overhung with what looked like drying swamp grass grew from the wall: a vision out of early Truman Capote.
In yet a third bedroom, a young man in stylish eyeglasses contemplated the windows' interior locking mechanisms. "These are like, 'don't kill yourself windows,'" he said. Another young man, reclining on the bed, said nothing. The man at the window turned. "I bet you'd feel really powerful in a bed like that," he said.
At this, we took our leave.