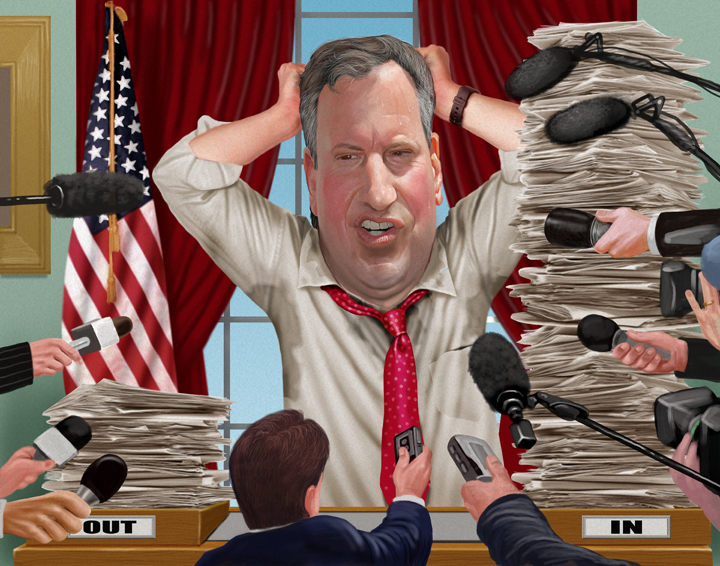 When Bill de Blasio decided to run for New York City Council in 2001 after managing Hillary Clinton's successful U.S. Senate campaign, political observers were bewildered.
After spending the previous year attending late-night strategy sessions at the White House and earning a shout-out on The West Wing, the rising star could have landed a lucrative consulting position or launched a big-money K Street firm. Instead, he opted to compete in a crowded, long-shot race for the chance to debate zoning regulations and field constituent calls.
Some thought he'd gone mad. This paper suggested that, at 39, he was in the midst of a mid-life crisis. But looking back, this rather unorthodox move was the first in a more than decade-long campaign by one of the nation's most savvy political operators—a man who, barring cataclysmic events, is about to celebrate his own election as the city's next mayor following one of the most extraordinary campaigns in city history.
Yeruchim Silber, who volunteered on Mr. de Blasio's council race and later joined his council staff, said that, when he first met Mr. de Blasio, he immediately recognized something different about the man who at the time was stooped over crutches after falling down a set of stairs while going door knocking one rainy night and fracturing his leg.
"I meet a good number of candidates, and, typically, the first conversation they tell you why they're the best candidate, what their strategy is to win and why you should support them," he said. "I've heard that a million times." But with Mr. de Blasio, things were different. "His first line when he came in was, 'Educate me.'"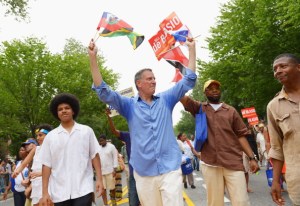 In many ways, this openness is Mr. de Blasio's greatest political gift. At 6'5", with a gangly frame and a penchant for using corny jokes as icebreakers, he is nothing like the stiff and stilted Mayor Michael Bloomberg. He projects a sense of shared purpose, literally leaning down to speak at voters' levels, touching their shoulders or grasping their hands as he speaks, and seems to have no shame. It's hard to imagine any other white male politician busting an awkward dance move involving licking his hand and touching the ground at the West Indian Day parade and barely earning a word of mocking press.
His approachable persona and promise of a kinder, cuddlier City Hall has helped Mr. de Blasio ride a wave of populist, outer-borough frustration and discontent with the data-driven, my-way-or-the-highway Bloomberg years.
But whether Mr. de Blasio can translate his campaign success into an effective administration is an open question that will depend as much on his political prowess as his temperament and managerial skills, which have received scant attention in the race.
His rival, Joe Lhota, has repeatedly charged that Mr. de Blasio does not have the résumé to be mayor of the nation's biggest city. "The largest thing Bill de Blasio has ever managed is his current campaign for mayor. Bill de Blasio is not ready to be our mayor," Mr. Lhota said at a recent fund-raising plea, echoing a popular refrain of his campaign.
Mr. de Blasio's office declined repeated requests to make him available to answer questions about how he'll run the office, insisting it was too early to talk about staffing priorities or the nitty-gritty of governing. But hours of interviews with those who've worked closely with Mr. de Blasio over the years, from his early days serving as a City Hall staffer to his years as regional director of the United States Department of Housing and Urban Development, a Brooklyn city councilman and the city's public advocate, paint a picture of an increasingly demanding leader who has more in common with his former boss, Andrew Cuomo, than meets the eye and has run his government offices like political campaigns, filled with young, dedicated staffers he can mold in his model.
***
Back in 1994, Congressman Charlie Rangel hired a young Mr. de Blasio, a former David Dinkins campaign aide and administration staffer, to manage his reelection campaign. "He was a very unusual, talented personality, and there was no question in my mind that he was going to be able to make a political contribution in his own right," said Mr. Rangel. What struck him most at the time, he recalled, was that he never received any complaints about Mr. de Blasio from other staff members or power brokers.
"That is very, very unusual to have a campaign manager that doesn't step on a lot of people's toes," said Mr. Rangel, who cautioned that being nice didn't make Mr. de Blasio any less effective. "Not being a bastard doesn't mean to me that you're weak." (Nevertheless, Mr. Rangel endorsed one of Mr. de Blasio's opponents in the Democratic primary. Ms. Clinton stayed out of the race.)
Later, Mr. de Blasio served as regional director of HUD in the Clinton administration, working directly for now-Governor Andrew Cuomo, managing a staff of about 20 tasked with overseeing federal housing and economic development programs in the region. (The post, which Mr. de Blasio held for two years, has been vacant since another mayoral candidate, Adolfo Carrión Jr., stepped down in early 2012.)
"He wanted to hear every point of view. He wanted to hear every opinion about why this could work or why this couldn't," said one former co-worker, who, like many others, spoke on the condition of anonymity for fear of angering the likely next mayor.
During his years as a city councilman, Mr. de Blasio seemed especially engaged, personally making the rounds to check on problems like broken traffic signs, recalled Peter Hatch, one of Mr. de Blasio's early chiefs of staff in the office. "We'd do mobile meetings in his old blue station wagon, where we'd drive around, checking out issues and talking to folks," he said. (Mr. de Blasio's ride has since been traded for a Prius or police-driven SUV.)
Mr. Hatch remembered how, on weekends and late at night, he would receive streams of emails from Mr. de Blasio calling out issues that needed to be addressed as he walked around the district, talking to residents. Coming from the 24/7 campaign world, he said, Mr. de Blasio expected a lot as a boss. "He moved fast and he really prefers to govern at almost a campaign pace," recalled Mr. Hatch. "He was very hands-on, because he does understand all 360 degrees of running an effective government office: policy, politics and communications."
By the time Mr. de Blasio had reached the public advocate's office, however, he appeared to have lost the lighter touch of his early days. With staff slashed from the levels of his predecessors thanks to budget cuts, and a mayoral campaign on the horizon, Mr. de Blasio seemed far more cautious. A temper unseen by early co-workers began to flash more frequently, and he churned through staff as he began to lay the groundwork for his run for mayor.
Mr. de Blasio seems to have drawn upon the influence of his former bosses: the Clintons, who are known for expecting loyalty, as well as Governor Cuomo, who is known for a demanding, hands-on approach. "[Mr. Cuomo] wanted everyone else to—if you will—play at the highest level, to really bring themselves up to the highest of their possible ability," recalled Mr. de Blasio in one video interview as Mr. Cuomo ran for governor. "After a few bumps along the way, I came to appreciate it greatly."
While staffers often described deep personal admiration for Mr. de Blasio, working for him "can be incredibly demanding, incredibly hard," said one former staffer, who compared Mr. de Blasio's details-oriented approach to that of the band Van Halen, whose concert rider back in the '80s famously included a clause requiring staff at each venue to comb through bowls of M&Ms in their dressing room to remove all the brown ones. While the group came off as prima donnas, members later revealed the demand was a safety assurance to make sure crews were paying close attention to the details specified elsewhere in contracts for dangerous, pyrotechnic-filled shows. For Mr. de Blasio, the details were a reflection of the broader operations of the office. From its resident hotline to its landlord watch list, he said, "He wanted to know that every part of those systems worked perfectly because he expected nothing but the best."
Staffers were always expected to pitch in. "No matter how silly or small it is, everybody has to be willing to roll up your sleeves and do anything anytime," said the staffer, who said the office's mantra was "ADT, ADT," courtesy of Mr. de Blasio's first major political boss, Bill Lynch: "Any damn thing. Any damn time."
***
But Mr. de Blasio, who began his career as a low-level staffer in the Dinkins administration, also has shown the tendency to micromanage. One operative who has worked with him over the years described a public advocate's office in which few were empowered to make decisions, resulting in administrative bottlenecks—and worried about what that would mean for City Hall. "I'd be shocked if City Hall doesn't become Albany," he said, referring to a sense, among some, that Mr. Cuomo's unwillingness to let others make decisions is creating gridlock in the state capital.
"He likes to be in control—but to a fault," the operative continued. "How does he make the transition from running a very small operation and campaigning to running the largest city in the country and a multibillion-dollar budget where he's not gonna be able to micro-manage? I think there are real questions about his ability to delegate."
There were also questions about his bedtime. Mr. de Blasio, emails seen by Politicker showed, sometimes had difficulty waking up in the morning, as public advocate, leaving staffers waiting for hours outside his home or showing up late to morning events he had been scheduled to attend. And some cited flashes of a temper that drew comparisons with Mr. de Blasio's failed primary opponent, City Council Speaker Christine Quinn, whose mercurial nature became a key issue in the campaign.
Several staffers noted that—as early as his HUD years through the Clinton campaign and the public advocate's office—while coming off as wonky, Mr. de Blasio seemed less interested in policy details than big-picture ideas, delegating those tasks out to staffers who would then brief him verbally or in short "pro"- and "con"-filled memos. In at least one case, Mr. de Blasio appeared to be unaware of points raised in his own report, released with great fanfare to the press.
"He's a surface guy, total surface. He's not in the weeds. He's more about the politics, not policy," one former staffer from the Clinton campaign observed.
Mr. de Blasio's staffing decisions in the office also provide some clues about the people he's likely to choose to run City Hall. Mr. Bloomberg has repeatedly said that recruiting people with the right skills was the most important task of his first months in office and approached the task—unsurprisingly–like a corporate CEO: As he recently described in a radio interview, a search team combed the country for talent, interviewed 10 potential candidates and then brought the top three in to meet the mayor, who made the final call. Among that early team: Daniel Doctoroff, a successful financier, and Gretchen Dykstra, the former president of the Times Square Business Improvement District.
Mr. de Blasio, meanwhile, has tended to find young, ideological soul mates and groom them himself. He has relied on a small group of deeply loyal staffers, several of whom followed him from the public advocate's office to the campaign, including Emma Wolfe, 34, who began with Mr. de Blasio in his 2009 race for public advocate and now serves as deputy campaign manager. Another is Wiley Norvell, 33, who handles press. His campaign is also filled with several former Obama staffers, and he has hired talent from D.C. before.
He has also shown a willingness to take political risks. He decided, for instance, to hire upstart Reshma Saujani for deputy public advocate, a potentially divisive move following her decision to challenge longtime Congresswoman Carolyn Maloney, a popular figure within the city's Democrat establishment. Mr. de Blasio leveraged Ms. Saujani's deep fund-raising network to raise cash for a nonprofit he has used to supplement his office's budget—and perhaps make inroads with the Wall Street and tech crowds that helped fund her campaign against Ms. Maloney.
At points, however, his desire to hire like-minded staffers seemed excessive to some. Past interviewees for jobs with Mr. de Blasio have described spending weeks being put through the ringer in a painstaking vetting process, complete with deep philosophical discussions, home visits with kids Dante and Chiara, long car rides, dinners with Mr. de Blasio and his wife—a constant presence—and late-night phone calls.
***
While few jobs can prepare a candidate for the sheer scale of running a city with a $70 billion budget and 300,000-plus employees, Mr. Bloomberg's résumé as a Wall Street banker turned billionaire media mogul is a historical exception. Prior to his election as mayor, Ed Koch had served as a congressman, while David Dinkins's pre-mayoral post was the largely ceremonial position of Manhattan borough president.
And yet the New York City mayor is uniquely powerful, both locally, in the sweep of his City Charter-given powers, and nationally, as America's de facto urban agenda setter.
In addition to making sure the garbage gets picked up, the mayor sets priorities for the city–in Mr. Bloomberg's case, cracking down on smoking and aggressively targeting tourist dollars. The next mayor will also face the very real challenge of negotiating new contracts with each and every one of the city's municipal labor unions, which are fighting for retroactive pay raises that many feel the city can't afford.
In his favor, Mr. de Blasio has already shown a knack for getting in front of issues that resonate with New Yorkers. He positioned himself as the mayoral race's most vocal opponent of stop-and-frisk before a federal judge ruled the city's implementation was unconstitutional and was among the first in the field pushing for mandatory paid sick leave. On the City Council, he showed a willingness to fight for causes that weren't necessarily headline-grabbers, including pushing for reforms at the Administration for Children's Service after the death of Nixzmary Brown and, as public advocate, successfully used his bully pulpit to pressure bad landlords to make repairs.
Kenneth Sherrill, a professor emeritus at Hunter College, said that for a mayor, political leadership is at least as important as executive experience. Many of Mr. Bloomberg's third-term challenges—the overuse of stop-and-frisk, challenges to his efforts to limit soda sizes and introduce a new taxi fleet—were the product of failed politics, Mr. Sherrill notes, not mismanagement.
"Honestly, leadership skills often matter more than managerial skills. If you're able to do the kind of talent search that enables you to hire the first-rate managers—that is, Lhota types—then you don't have to be that much of a manager yourself," he said, arguing that being responsive to a population of 8 million people is more important to being a mayor than knowing every cranny in the budget.
"Very often, people who have very strong managerial skills often have what is, politically, a tin ear," he noted. "Do you really want a mayor who's more of a manager than a political leader? I don't think so."
Mr. de Blasio's success over the next four years will depend on both.