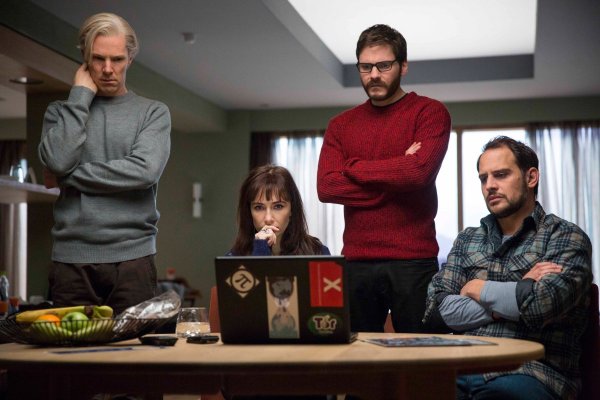 In an age of leaking top-secret government documents that endanger the lives of millions under the bogus guise of the public's right to know, we get The Fifth Estate, a disappointing and incomprehensible biopic about Australian cyberpunk Julian Assange, founder of WikiLeaks, the controversial website dedicated to posting more than three-quarters of a million classified government and corporate documents about the Afghanistan war. Journalism used to be a noble profession referred to as the Fourth Estate. With the bastardized rape of ethics that now blasts forth from the Internet, turning teenage hackers into unedited, self-aggrandizing experts on everything from sex and politics to movies and 100 recipes for meatloaf, the new term for journalism is now the Fifth Estate, hence the title, and disgrace, of a film by a director I have enormously admired on previous occasions (Gods and Monsters,Kinsey and Dreamgirls, to name three). In an interview on the occasion of the film's mixed reviews at this year's Toronto Film Festival, Mr. Condon was quoted: "It was a constant puzzle to figure out how to tell the story and get across all the information but still keep it exciting and entertaining." He struck out on all counts.
Mr. Condon and the excellent West Wing writer Josh Singer have failed to make the egomaniacal Julian Assange anything more than an arrogant, quasi-terrorist obsessed with whistle-blowing who grew greedy in his eagerness to rise to the top of the "get famous" business by causing as much chaos and panic as possible. Instead of the "privacy vs. transparency" issue in the Internet age that drove Edward Snowden to seek asylum in Moscow (with an assist from Assange, his ally in the spy game), the film's focus is on Assange as a personality, and he comes off as a repellent leech whose lust for notoriety extended beyond exposing hidden facts about secret missions of U.S. troops in Afghanistan. He also exposed massive tax dodges in Swiss banks, protests in Tibet and the Church of Scientology, causing global turmoil with one nonprofit website, a couple of fake email addresses and his right-arm deputy, the sympathetic German hacker Daniel Domscheit-Berg (Daniel Brühl). It was a two-man operation, jeopardizing lives and accountable to no one, until his partner began to question the virtue of publishing 750,000 U.S. military logs and diplomatic cables and turned him in, destroying his own little planet of tyranny and driving Assange into hiding in the Ecuadorian embassy in London. He's still there, avoiding extradition to Sweden, where he faces sexual assault charges.
What a story. What a downfall. And what a movie, if only some attempt had been made to humanize Assange. But he is played by the suddenly overexposed, overrated and almost incomprehensible British actor Benedict Cumberbatch. He fares better in two other new films, employing Southern dialects in both 12 Years a Slave and August: Osage County, without the pasty skin, white wigs, ugly prosthetics and phony Australian accent that makes him sound like he's struggling with a mouth full of wet plastic bread wrappers. Laura Linney, David Thewlis and Stanley Tucci are wasted in minor roles of no consequence. The best thing about the movie, based on the bookInside WikiLeaks by Assange lieutenant-turned-traitor Domscheit-Berg and reports by London journalists David Leigh and Luke Harding, is the sobering picture it paints of 21st-century journalism, where anonymity reigns supreme and ruthless amateurs get away with everything.
Timely but sluggish and confusing, The Fifth Estate will be a hard sell. Corruption in cyberspace should be a helluva lot more entertaining than this.
THE FIFTH ESTATE
Written by: Josh Singer
Directed by: Bill Condon
Starring: Benedict Cumberbatch, Daniel Brühl and Carice van Houten
Running time: 128 min.
Rating: 2/4