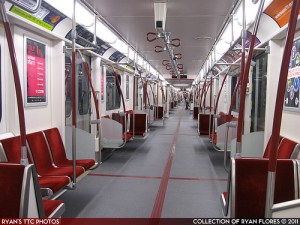 The New York Times might have been prematurely enthusiastic when they reported yesterday on the coming advent of articulated subway trains—snakelike creatures with accordion-style joints, long, continuous corridors and open gangways between cars. Inspired by the MTA's 20 Year Assessment that came out earlier this month, the Times article made much of a single bulleted item on page 135 of the 142-page document, which gave no specific timeline or budget details for the trains' implementation, and went only so far as to say that "consideration should be given" to articulated designs. And in light of the fact that the last two decades have seen significant refreshments to the city's fleet, which now consists largely of cars that can be expected to last 40-60 years, a swift wholesale embrace of articulated models seems deeply unlikely.   
Still, Richard Barone, who directs transportation programs at Regional Plan Association—and who also chatted with the Times—told us that the mere mention of articulated trains in the MTA report represents a marked change in attitude for the authority. "It's very positive that they're actually looking at that," he said. "Articulated trains have been around for a while and that hasn't been their position in the past." Several cities with transportation systems older than New York's, including Rome, Paris, London and Berlin have introduced articulated trains in the last 10 years or so, Mr. Barone said, and the lately increased prevalence of global information sharing amongst urban planners and leaders has furnished the MTA with evidence worthy of a change of heart. "They see the data, they see the benefits," he said. "They see the advantages of going that route. Several years ago that wasn't really the case."
The advantages, which the Times catalogued nicely, arise chiefly from eliminating what Mr. Barone called "the dead areas" between cars, increasing capacity and allowing riders to distribute themselves more evenly along the length of the train. Though Mr. Barone has been impressed with articulated models where they've been implemented, he emphasized that for New York, they represent merely "one piece of a long-term investment package" that also includes streamlined station management, improved signaling, and more mundane upgrades like new stairways and entrances. Mr. Barone also acknowledged that because they cannot be taken apart for repairs as easily as trains with discrete cars, articulated designs have less flexibility when it comes to maintenance.
When asked how articulated models might affect the social niceties of subway travel, Mr. Barone became circumspect: "Everything has its two sides." he said. "The down side is that if someone is really obnoxious, you can't contain them in one car. But you are also able to get away from that person. At night you try to find a car that is not empty. In this case, at every entry point of the train, there will be people. You will never be on the train by yourself. Safety-wise, I think it's a  plus. As far as smells and whatnot, in some ways you would think that the open design would enable the MTA to identify the problem faster. But, potentially, I guess, that could be a downside."