On his way to teach at LaGuardia Community College some weekday mornings, the painter Paul Branca likes to pick up bananas or apples at a little fruit and vegetable stand on Queens Boulevard between 32nd Place and 33rd Street in Long Island City. Walking by on a Saturday morning, though, he noticed it was empty. The vendors only worked during the week. "It's this funny, green, handmade wooden structure," he said approvingly. "It looks like art already." And so a plan was born.
"I called on my painter friends," Mr. Branca continued. Last October, three days before Sandy hit, he and a number of other artists each picked out a fruit or vegetable, made a work, and displayed it there for a few hours. Artists and supporters stopped by, and so did people just passing through the neighborhood. "I sold some red peppers to a Russian lady who was taking her daughter to ice-skating lessons," he said.
Tomorrow, Oct. 18, at 2 p.m. Mr. Branca is bringing back the stand with some three dozen artists, three times as many as last year. Lukas Geronimas is making oranges, Alisha Kerlin is handling cucumbers, Pat Palermo produced a pineapple, Guy Ben-Ari is on the nectarines and Mr. Branca has "six or seven artichokes." There's sculpture this time too, with Fawn Krieger making foam potatoes—"potay-toes" Mr. Branca emphasized. (They have some rather unsettling digits sprouting from them.) A full list of artists and their produce follows below.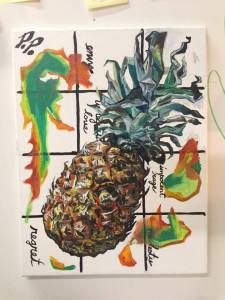 Prices range from about $5 to $350, and artist take home 100 percent of the proceeds. If you can't make it to the stand, which will be up for just a few hours, there's talk of the show traveling to actual institutions. Each of the artists has made a gray version of their work, which will be shown in future iterations. "The idea is that the grisaille versions will be for people who didn't make the stand," he said.
Around 5 p.m., Mr. Branca and company plan to decamp for dinner at an Italian restaurant.
The artists:
— Guy Ben-Ari's nectarines
— Paul Branca's artichokes
— Ana Cardoso's beets
— Arianna Carossa's olives
— Roger Carmona's coconuts
— Lea Cetera's broccoli rabe
— Jamie Chan's durians,
— Dylan Chatain's shallots
— Jagna Ciuchta's ginger
— Jesse Cohen's carrots
— Al Freeman's figs
— Marley Freeman's cherries
— Munro Galloway's leeks
— Lukas Geronimas's oranges
— Susan Hamburger's turnips
— Jeannine Han's cucumbers
— Dustin Hodges's bok choy
— Christine Kelly's raspberries
— Alisha Kerlin's black-eyed peas
— Essye Klempner's watermelon radishes
— Fawn Krieger's potatoes
— Manuela Lalic's garlic
— Eric Legris and Andrew Steinmetz's honeydew
— Sophy Naess's fennel
— Pat Palermo's pineapples
— Rory Parks's pumpkins
— Kate Parnell's asparagus
— Cassie Rahil's onions
— Halsey Rodman's pickles
— Emily Roz's heirloom tomatoes
— Vanessa Safavis dates
— Emet Sosna's pomegranates
— Lumin Wakoa's bananas
— Annette Wehrhahn's peaches
— Leah Wolff's lettuce