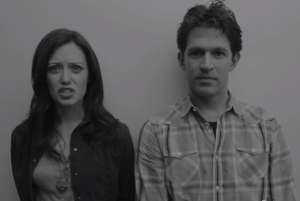 Online dating is responsible for a lot of successful, long-term unions–but as this video shows, it can also expedite the implosion process if your relationship is getting wobbly.
In "A Relationship in Five Minutes," Autumn Stein and Matthew C. Flynn act out your typical hetero match-up in a single, impressive, five-minute take. It starts with the two of them meeting for the first time, then going on their first date.
On the date, Matt tells Autumn all of the measures he's taken to stalk her online. He has a friend who works at Match.com, he explains, and he's asked that friend whether she has a profile on the site. Autumn doesn't have a profile on Match.com, so he takes this to mean she's not looking for anyone else, which is "important to him." Besides, they both agree, online dating is "creepy."
Later on, Mr. Flynn's online-dating connection comes back to bite them both in the ass when he informs her that he'll be creating a Match.com profile despite the fact that he has a girlfriend because "there's nothing wrong with online dating" and "it's 2013."
"I have a friend at Match.com and I was on some profiles and I found some women that I think you'd like a lot," he says.
"Are you kidding me? If you wanna play that game, I think your best friend's smokin'," she shoots back. "You're gonna give up everything so you can online date?!"
"It's been so long now," he says of their 11-month relationship. "It's ridiculous."
The short, directed by Court Dunn, definitely falls under the funny-cuz-it's-true category. It rings so true, in fact, you shouldn't be surprised if it activates some dating and breakup PTSD. But hey, at least Ms. Stein didn't discover Mr. Flynn's profile in secret.
[youtube=http://www.youtube.com/watch?v=cQviPmj3kyg&w=420&h=315]