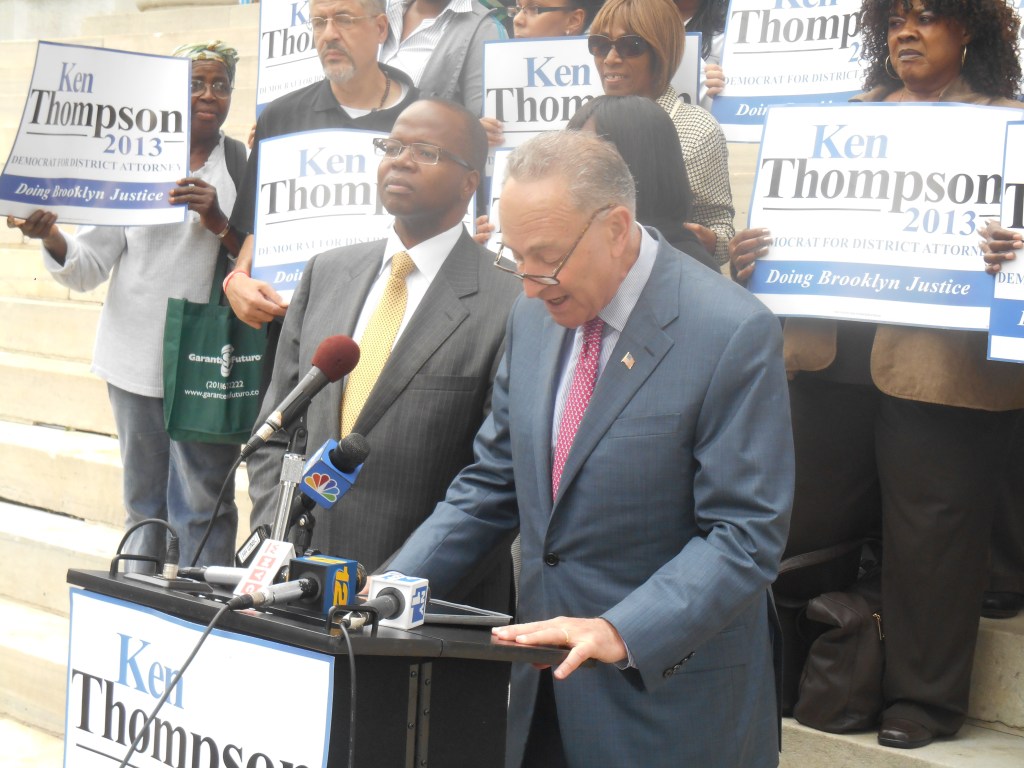 Ken Thompson is still livid about Brooklyn District Attorney Charles Hynes's decision to continue his re-election bid after losing the Democratic primary.
Mr. Hynes had reportedly conceded the general election, vowing not to actively campaign on the Republican and Conservative Party lines, only to change his mind last week. At a press conference today rolling out Senator Chuck Schumer's endorsement, Mr. Thompson lit into Mr. Hynes for the move.
"He has run year after year for 24 years as a Democrat. He lost fairly in a Democratic primary and now he's gonna turn and run as a Republican and a Conservative," Mr. Thompson said, standing with supporters on the steps of Brooklyn Borough Hall. "The same party that shutdown the government, the same party that's been trying to destroy the President of the United States of America. The people of Brooklyn deserve better. We deserve him to keep his word."
And, although Mr. Schumer repeatedly declined to criticize Mr. Hynes, Mr. Thompson was far less bashful. "I will have prosecutors who are going to do the right thing. I will not have someone who is accused of railroading people in wrongful conviction cases," he vowed.
Mr. Thompson also vehemently denied Mr. Hynes's accusation, based on published reports, that Clarence Norman, the former head of the Brooklyn Democratic Party who was convicted on corruption charges, helped steer his campaign. Mr. Hynes cited this as a key factor for his continued candidacy.
"This allegation about Clarence Norman is an outright lie. It's a desperation move by D.A. Hynes. I've said repeatedly that Clarence Norman had nothing to do with my campaign," Mr. Thompson declared. "We have no relationship with him. I know him like I know many other people but I have no relationship with Clarence Norman … They're using it to justify his decision to turn his back on the people of Brooklyn."
According to a notice sent out by the Brooklyn Conservative Party, Mr. Hynes will be holding his own Borough Hall rally tomorrow morning. His campaign did not immediately return a request for comment.