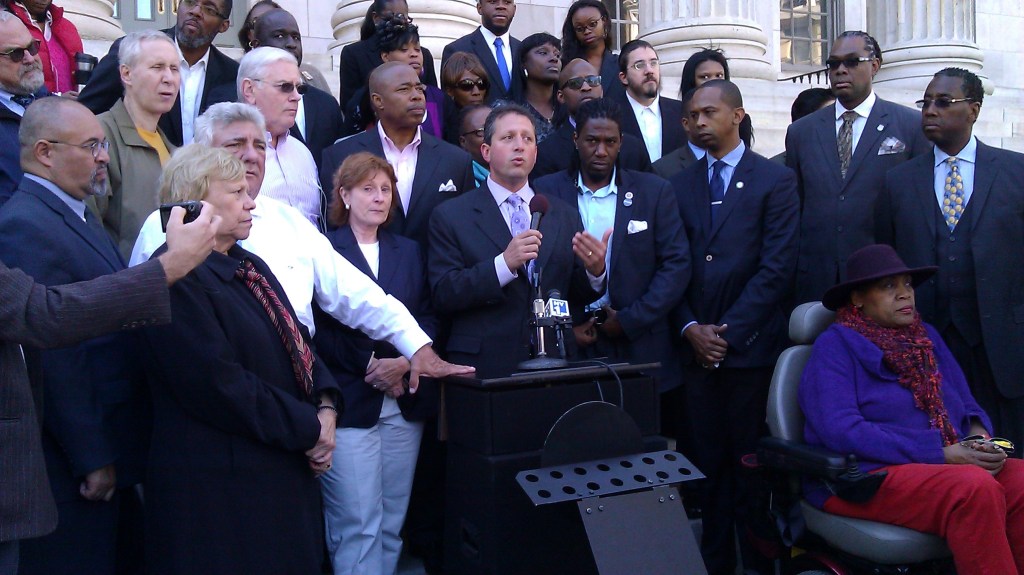 Nearly 40 supporters of Ken Thompson's Brooklyn district attorney campaign gathered on the steps of Borough Hall today to demand incumbent Charles Hynes apologize for allegedly accusing Mr. Thompson of being a gun trafficker–which they linked to a larger plot to scare white voters in the November election.
"Who are we talking about, my opponent?" Mr. Hynes asked with a laugh at yesterday's press conference announcing the bust of a major gun-trafficker. Mr. Hynes's campaign spokesman, Jerry Schmetterer, said Mr. Hynes was simply joking after being asked for an address when the conversation shifted to off-topic campaign questions.
"Nothing to apologize for. It never happened. Ask any reporter who was at that press conference," Mr. Schmetterer wrote in an email. Many in the room laughed including Police Commissioner Ray Kelly, but Mr. Thompson's backers saw something more.
"We should not see our commissioner laughing about someone accusing Ken Thompson of being a gun-runner," Eric Adams, the Democratic nominee for Brooklyn borough president, told reporters today. "We should not see all of those men who are in the room laughing—because our children watch these stories. Bad jokes are unacceptable."
Mr. Adams connected the offending comment to an alleged bigger plot to exploit racial tensions. He further cited a Hynes campaign mailer featuring a handcuffed black man that had been used to illustrate Mr. Thompson's alleged ties to convicted ex-party boss Clarence Norman–an allegation Mr. Thompson denies.
"We're not here to be oversensitive," Mr. Adams said, further linking the Hynes campaign to Republican mayoral hopeful Joe Lhota. "But when you marry those comments with some of the fliers … and comments about New York City going to go back to the badder days—it is the spirit of the Joe Lhota campaign. It is the spirit of what we're seeing of the Republican party attempting to divide the borough along racial lines."
"Unfortunately I just think we should speak the truth here. District Attorney Hynes's general election campaign is premised on an unfounded allegation largely designed to scare white people," interjected Councilman Brad Lander.
Others present today, including several officials who previously endorsed Mr. Hynes in the Democratic primary, simply urged Mr. Hynes to take it down a notch. (Mr. Hynes is continuing his bid in the November election on the Republican and Conservative party lines.)
Frank Seddio, the Brooklyn Democratic chair, said he wanted to maintain the "the civility of politics" despite the heat of the race.
"Spread love," echoed Assemblyman Walter Mosley. "It's the Brooklyn way."
Additional reporting by Jill Colvin.