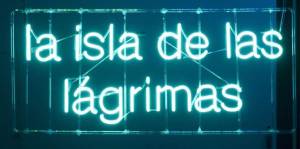 The leaders of the Jewish Museum, its becoming clear, are an indefatigable bunch. Its deputy director, Jens Hoffmann, has taken to organizing an HUO-style salon at 7 a.m. once a month at venues around town, and today the museum announced it's at work on no fewer than three new exhibition series that is says "demonstrate [its] commitment to exploring art and culture, historical and contemporary, while infusing it with an up-to-date sensibility and a global perspective."
"In his first year at the Jewish Museum, Jens Hoffmann, as deputy director for exhibitions and public programs, has reimagined aspects of our exhibition program," Claudia Gould, the museum's director, said in a statement. "These new curatorial initiatives provide fascinating opportunities to gain fresh perspectives on our collection and rich history of cultivating contemporary art and artists, all with an expanded global outlook.
The three programs are as follows:
— "Masterpieces & Curiosities," which will hone in on individual pieces in its collection over the course of seven shows, from this year through 2017. First up is a look at "an extremely rare, late 12th-century bronze lion aquamanile," according to the museum's news release.
— "Using Walls, Floors, and Ceilings," which will have contemporary artists taking turns in the museum's lobby, making new works or installing recent pieces. Paris collective and "readymade artist" Claire Fontaine will officially inaugurate that project next month, with Mel Bochner on deck for May, when he has a solo show at the museum.
— Finally, "Sights and Sounds" asks 25 curators working around the world to select new film and video works from their local area. Each curator's selections will be screened in the museum's media center for one month. Erin Gleeson will be kicking things off with four films from Cambodia. The curator list, which is still being assembled, is below in alphabetical order.
Nancy Adajania (India)
Miguel Amado (Portugal)
Jude Anogwih (Nigeria)
Emre Baykal (Turkey)
Zoe Butt (Vietnam)
Natasha Conland (New Zealand)
Joselina Cruz (Philippines)
Patrick D. Flores (Singapore)
Juan A. Gaitán (Colombia)
Daria Ghiu (Romania)
Erin Gleeson (Cambodia)
Inés Katzenstein (Argentina)
Miguel A. López (Peru)
Carol Yinghua Lu (China)
Mailyn Machado (Cuba)
Nontobeko Ntombela (South Africa)
Melanie O'Brian (Canada)
Luiza Proença (Brazil)
Sarah Rifky (Egypt)
María Inés Rodríguez (Mexico)
Suzana Sousa (Angola)
Tijana Stepanović (Hungary)
Chen Tamir (Israel)
Wayne Tunnicliffe (Australia)
Joanna Warsza (Poland)