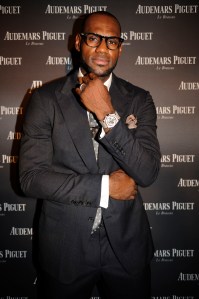 LeBron James has come a long way since his first watch.
"It was this Teenage Mutant Ninja Turtles thing," the 4-time NBA MVP told the Transom last Friday night, at the private unveiling of his latest wrist-wear collaboration, this time with Swiss watchmaker Audemars Piguet. "You know, the plastic one with the rubber strap and you flip its head open to see the time? I think it was Donatello—no it was Michelangelo."
Whichever turtle it was, there were lots of party dudes in attendance at last week's event, held high above the South Beach sprawl in what we quickly surmised was the Apple store equivalent of a parking garage.
"I like it," Michael Strahan said, while shaking our hand with what felt like a pitcher's mitt. "I'm on a bit of a whirlwind tour today, Nicole [Murphy] and I just flew down after taping the show, and then we're off to LA in a bit."
He wouldn't say what for, but his gap-toothed grin twinkled at his weekend plans.
Strahan and King James quickly embraced before turning their attention to the hulking mass of rose gold latched to the Miami Heat superstar's wrist.
"Anytime I do anything or have a partnership with anyone that has my name on it, I like to have a lot of personal trace in it," James assured us, and indeed, his signature is printed in the back of the watch.
The $51,500 chronograph was rumored to have already sold out nationwide—a fact we confirmed by contacting the 57th Street boutique, asking for an appointment. Not that we were in the market. After all, it takes a certain type of guy to want to wear a watch with another dude's name on it—and that guy is Scott Disick.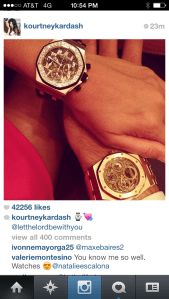 "I love the thing, I'd wear it in a heartbeat!" Lord Disick exclaimed of the LBJ collab. And the Kardashian Baby Daddy (literally there is no other contribution to the human race that he has made, check his Wikipedia page) wasn't just saying that. He put his money where his mouth was, posting an Instagram wrist shot with Kourtney the next day.
"I live for these things," he added with a wink. No doubt he does.